Gender stereotypes cold-shouldered on 95-yr-old woman's last journey
Jul 24, 2018 12:46 PM IST
In keeping with a 95-year-old woman's wish to break gender stereotypes, her daughter and three daughters-in-law, along with local women, lent their shoulders to her bier in Bariyasanpur village of Varanasi.
Onlookers couldn't help but think that something was off when the funeral procession of a 95-year-old woman was taken out in Varanasi's Bariyasanpur village on Sunday.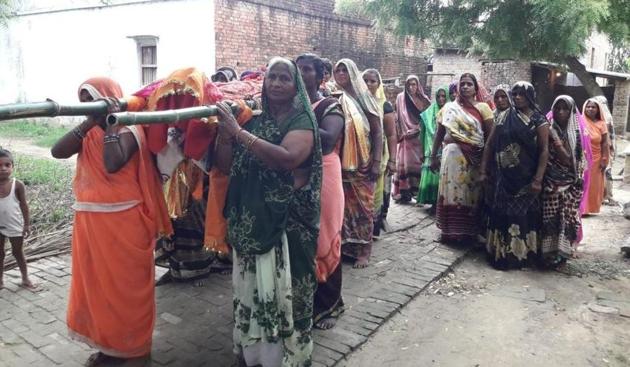 The bier-bearers in Santora Devi's case were not men but her daughter, three daughters-in-law and other women from the locality. This was not due to the absence of male relatives either. She is survived by two sons, Tribhuvan Narayan Patel and Babulal Patel, although a third – Ramrathi Patel – died 10 years ago.
Tribhuvan said Devi was all for breaking gender stereotypes, in life and death. "My mother abhorred superstition and unreasonable dogmas, and treated her sons and daughters equally. She wanted my sister, Pushpavati Patel, and daughters-in-law to carry her bier because she believed that such a move would dispel the commonly held notion that women are not permitted to do so," he added.
While the other women returned home after accompanying the body for a kilometre, Devi's daughter and daughters-in-law – Prabhavati, Amravati and Kalavati – went ahead and attended the cremation at Sarai Mohana Ghat. The two sons lit the pyre.
"I am thankful that my sister fulfilled my mother's last wish," said Tribhuvan.
Another pledge by Devi – that she would donate her eyes – was also fulfilled after her demise.
Pushpavati described her mother as a brave and progressive woman who treated boys and girls equally. "I will always be indebted to my mother, who gave me such love and respect. I did nothing unique; it was my mother who made us become unique," she said, adding that Devi's last wish will set an example for society.
Even now, it is uncommon for women to carry the bier of a deceased person or even be a part of the cremation ceremony.