When India's missile man walked into HT office in Lucknow
Jul 28, 2015 01:15 PM IST
When Dr Kalam walked into HT Lucknow office, it was his first visit to any media house outside Delhi. Here are excerpts from his interaction with the Hindustan Times and Hindi Hindustan staff.
On August 3, 2009, former President Dr APJ Abdul Kalam walked into Hindustan Times office in Lucknow. He spent over an hour and a half, interacting with the Hindustan Times and Hindi Hindustan staff, his first visit to any media house outside Delhi. The former President and set a three-month deadline for the development blueprint that he had suggested.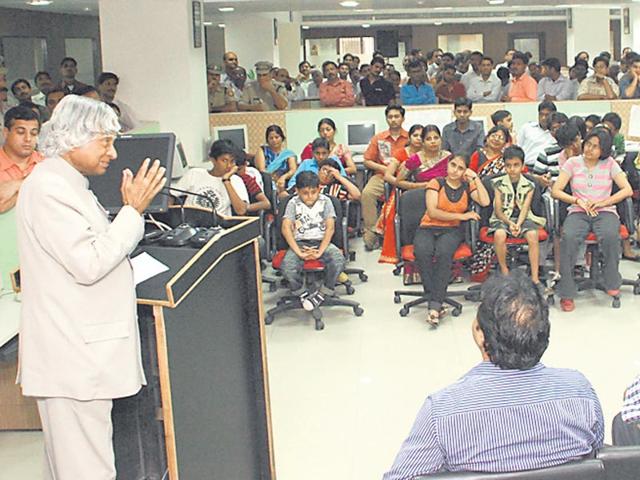 Here are excerpts of his interaction at HT office:
"Would HT/HH like to take this challenge and be partners in national development," he asked.
As there was a loud chorus of 'yes', India's missile man went on to advise the editorial staff what the data base should aim at. HT should be partner in development, Dr Kalam said adding Hindustan Times and Hindi Hindustan should become dynamic partners in the development of the nation, Uttar Pradesh and Uttarakhand in particular.
He said: "The two newspapers together should bring out a data base of the 85 Lok Sabha constituencies of the two states in consultation with district collectors, MLAs, MPs and Panchayati Raj institutions to formulate the development agenda for the people's representatives."
When asked what he would like to see in a newspaper, Kalam said, "More positive and research-based stories." He also said that young Turks below 35 years should be encouraged.
Interestingly, on being asked who his role model was, he remarked, "Vikram Sarabhai, space scientist. My primary school teacher once drew a diagram and taught me how a bird flies. This later ignited my curiosity and propelled me into pursuing rocket science. I became a rocket engineer because of my teachers."
When asked why he did not get married, the former President had said with a disarming smile, "I live in a joint family. I have four elder brothers and my extended family has 40 members, including grandchildren and great-grandchildren." The number had just gone up, he said.
With a motley audience listening to him in rapt attention, he said: "Newspapers should facilitate dissemination of knowledge. In a mature democracy, different views are essential to move towards citizen-centric, Constitution-guided policy directions."
"Exciting news! Hindustan Times is now on WhatsApp Channels
Subscribe today by clicking the link and stay updated with the latest news!"
Click here!