Boost your wellness quotient with low-fat and high-fibre, spicy Korean kimchi
Updated on Jun 27, 2018 12:31 PM IST
Beat the heat with the chilled yet tangy Kimchi Salad. Here is all you need to know about the trending Kimchi salad and it's health benefits from experts.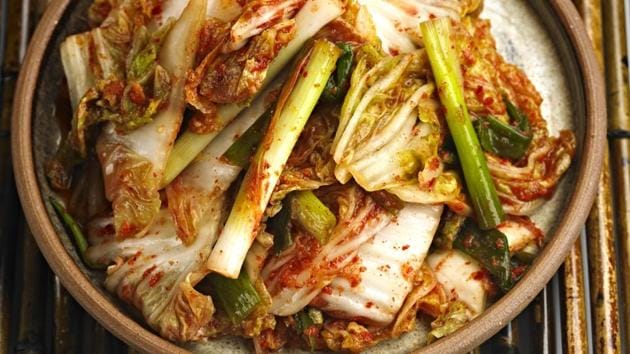 Hindustan Times |
, New Delhi
Shreya Santra
Summer can surely bring a downfall of one's appetite. But if you are bored living off on shakes and juices and cold coffees, this season, why not try a unique salad which is loaded with appetising properties? Yes, folks, kimchi, the yummy Korean traditional side dish made from salted and fermented vegetables, is your answer to beat the heat. Did you know that the kimchi is loaded with vitamins A, B, and C, and has "healthy bacteria" called lactobacilli? Well, this good bacteria (that are also found in yogurt) helps with digestion, plus it seems to help stop and even prevent yeast infections, according to various studies.
Made with a mix of napa cabbage, radish, onion, garlic and a variety of fermented spices, it is chilled before consumption. Chef Harngad Singh shares, "This crunchy salad is a healthy snack to be consumed in summers because of the rawness of the vegetables and its tangy taste. Eating spicy food leads to sweating and vasodilation (the dilatation of blood vessels, which decreases blood pressure), keeping one refreshed in the hot weather. Adding to it, this oriental salad is quite popular among foodies and restaurant-goers in Delhi."
This low-fat and high-fibre salad can be preserved for a prolonged period in the refrigerator or any cool place, unlike fresh vegetables and dairy products, and its flavourful taste is making people drool. This is why this pickled salad has accomplished to leave its trail over Delhiites in this sweltering summer.
It has over hundreds of varieties, depending on the season and the availability of herbs, vegetables, and other ingredients. "Modern culinary creations such as kimchi fried rice, kimchi tacos, and kimchi burger are out there for people to relish. In Delhi restaurants, kimchi Korean soup and kimchi Korean pork pot stickers are the innovations with the dish", says chef Vaibhav Bhargava.
Here are some of the super cool health benefits of this superfood by Tripti Tandon, nutritionist
1) Digestive nature: Fermentation dates back thousands of years, and it is now being held up as a potentially important source of friendly, gut-healthy bacteria. Kimchi is an enriched source of probiotics because of the fermentation, making it extremely healthy for the gut. Cabbage is a low carb vegetable and enhances detoxification, resulting in better assimilation of nutrients in the body thus preventing constipation.
2) Antioxidative: Kimchi, after two weeks of being fermented, is rich in anti-oxidants which decrease the rate of aging of the skin. According to studies, kimchi plays a protective role against free radicals which induce oxidative stress, safeguarding the body from harmful effects of oxidative damage.
3) Flawless skin and glowy hair: The selenium content in kimchi makes the skin radiant and keeps hair healthy. The garlic in kimchi is responsible for the selenium concentration which also keeps wrinkles at bay in the long run.
4) Weight loss: Kimchi comprises low carb vegetables which effectively help in reducing weight. The fibre present in these vegetables keeps body's hunger satisfied for a longer duration thus preventing overeating. It is a source of healthy lactobacillus bacteria which also fosters weight loss by controlling the appetite and reducing the blood sugar levels.
5) The salad is also a good source of vitamin A and it also lowers cholesterol levels and boosts immunity. The garlic found in kimchi contains allicin and selenium – both of which are helpful in decreasing the cholesterol reserves of the body.
Close Story
Personalise your news feed. Follow trending topics