What the shutting of Blue Frog means for Mumbai's live music scene
Updated on Aug 25, 2016 05:40 PM IST
As the iconic Blue Frog at Todi Mills downs its shutters this weekend, other live music venues, the haloed Hard Rock included, must adapt or perish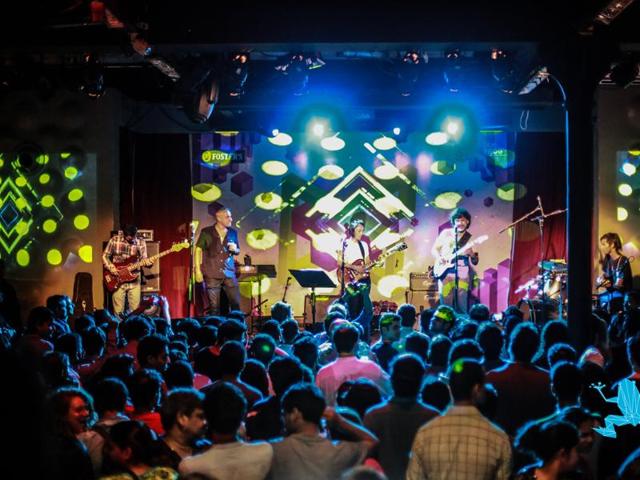 As the iconic Blue Frog at Todi Mills downs its shutters this weekend, other live music venues, the haloed Hard Rock included, must adapt or perish.
Earlier this month, there were whispers that premier live music venue, Blue Frog (Lower Parel), was shutting down. Bengaluru-based eatery Toit Brewpub was set to take over. An official statement then released by Blue Frog announced that while the Lower Parel venue was indeed shutting down, this wasn't the last you'd see of Blue Frog.
In the nine years that it has been around, Blue Frog provided a regular platform for upcoming artists as well as renowned performers such as Zakir Hussain, Indian Ocean, and American rockers Mutemath.
But the signs of struggle have been visible for a couple of years now. Its decision to regularly host stand-up comedy nights in May, 2013, and supper theatre in April last year, came as a surprise to many.
Branching out
Blue Frog isn't alone in trying to reach newer audiences via non-music events. At a time when stand-up comedy is growing by leaps and bounds, everybody wants a share of the pie. Even global franchise Hard Rock Café (HRC) held its first-ever comedy night this month.
Also read: Mumbai's eateries, pubs and libraries turn into performance spaces
Reinvention seems the way ahead. Since a club model relies on food and beverage sales for its revenue, it becomes imperative to attract a high-spending, and, often, by extension, older crowd. HRC opened its doors to kiddy parties in 2012. Parents were able to book an afternoon at the Worli (on Sundays) or Andheri outlets (on Saturdays). The agenda? Curated games such as pass the parcel, musical chairs, and magic shows. Hardly what you'd imagine happening at a Hard Rock.
But before you scoff at it, consider the city's complicated relationship with live music venues. Be it Juhu Hotel's Razzberry Rhinoceros (a favourite among rock fans) or Not Just Jazz By The Bay (now Pizza By The Bay), neither were able to sustain the pure-music business model. Mumbai's real estate prices are far from kind.
Blue Frog's executive vice chairman and managing director, Sumer Vaswani, admits rentals and infrastructure of Mathuradas Mill Compound were a problem. A message on Blue Frog's website reads, "We're actively looking to diversify into a secondary venue in North and South Mumbai — it could have a different flavour or avatar, we're open to ideas and collaborations." Which is indicative that Blue Frog might be reconsidering its business model.
The new entrants
At the same time, smaller venues have emerged. Popular chain, Social, launched AntiSocial in Khar this year. Its programming is versatile — from rap (Naezy, Divine) to funk (Madboy/Mink) — all genres have found a home. Although AntiSocial sees other events such as film screenings and poetry readings, on an average, five days of the week are dedicated to music. "We see about 250 people turn up on a weekend and around 200 on a weekday," claims Sumit Vaswani, culture manager, Social. It helps, of course, that Social's menu is pocket-friendly, unlike those of Blue Frog or HRC.
Speak of reinvention, and you can't leave out another Khar address: Tuning Fork (performance space and studio). Launched in April this year, it's a place for artists, or upcoming bands, to cut their teeth. As a band, performing at Tuning Fork won't earn you money, but will get you free time in their studio.
"We also assist in grooming amateur artists so they get familiar with recording techniques. Despite the rise of several studios in the city, a gap still remains between young, amateur artists, and the level of funding needed to produce even a demo of their performances," says Nanak Bhatia, creative and digital head, Tuning Fork Studios. He adds, "The challenges we face range from introducing artists to the barter model to meeting the operational costs of a studio, kitchen, and venue."
Festival boom
But if music venues are struggling, how are music festivals thriving? October onwards, the year is a packed line-up of music events: NH7 Weekender, Enchanted Valley Carnival, and EDM-centric ones such as Sunburn and Supersonic. Not only have the number of regular music properties and festivals grown, the number of attendees have shot through the roof. The first Pune edition of NH7 Weekender in 2010 saw 2,500 people (according to the organisers). Last year, that figure stood at 60,000 over three days.
So, what's different? While venues rely heavily on F&B sales, festivals rely on sponsorship. "The day ticket sales cover even 80 per cent of the cost of hosting a gig at a live venue, things will change. At the moment, only about 30 per cent comes in from tickets," says Himanshu Vaswani, business head, Bajaao Entertainment (the events arm of bajaao.com).
Also read: Rise of the machines: is EDM pushing other genres out?
But with festivals growing, and venues struggling, is the future bleak for the latter? "From a band's perspective, though festivals pay well now, venues are a regular source of income. It makes a big difference. Also, venues are great for album launches," Himanshu adds.
Also read: Mumbai's metal music scene is getting a revival with new, regular gigs
Going ahead, in a city as vibrant as Mumbai, and a circle as dynamic as the indie music scene, clubs will need to change a few things around. Pure music venues just don't work anymore. And to keep up with the changing game, they will have to play by new rules, and invent newer ones.
Be there
What: Frog Fest will take place from August 26 to 28. The line-up features artists such as Indus Creed, DJ Nuphlo, Midival Punditz and Zero.
For the day-wise line-up and timing, visit bluefrog.co.in/calendar-mumbai.
Where: Blue Frog, Mathuradas Mill Compound,, Senapati Bapat Marg, Lower Parel
Tickets: Rs 400 on bookmyshow.com
Call: 6158 6158
Personalise your news feed. Follow trending topics