Aramm movie review: Nayanthara shines in a relevant, hard-hitting political thriller
Updated on Jul 01, 2019 12:59 PM IST
Aramm movie review: With her hard-hitting portrayal, Nayanthara shines in a film that questions the lethargy of our system.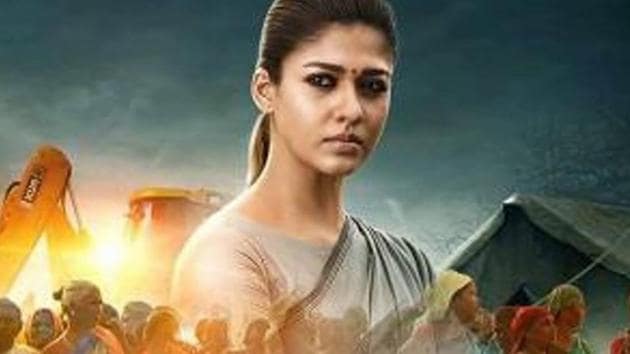 Aramm
Director: Gopi Nainar
Cast: Nayanthara, Raams, Vignesh, Ramesh and Sunu Lakshmi
Rating: 3.5/5
Aramm opens somewhere near Sriharikota and we're told India is preparing for its latest satellite launch. The mood is jubilant and people in nearby villages – where access to drinking water is a major concern - are eagerly looking forward to the big event. A baker puts his baking skills to test and whips up a cake in the shape of a rocket and puts it on display. A mother – on her way to fetch water - says she's looking forward to the launch because it's a matter of pride for every Indian. The satellite launch is juxtaposed with a moving, hard-hitting story of hope and survival, leaving us almost in tears and in shock through most of the film.
Aramm, on many levels, questions the very system we live in and the inefficiency of the government and those in power. When an incident in a village – involving a life-and-death situation -- calls for immediate action, we witness the lethargic attitude with which some government officials react to the state of affairs. A tahsildar lies through his teeth about his whereabouts when asked if he has reached the incident site, a fire services vehicle breaks down on its way to the village and a local MLA threatens to stop the district collector from resolving the situation because he feels sidelined.
With its gripping and mostly intense narration, Aramm takes a look at our flawed system through the eyes of a 4-year-old girl. Gopi Nainar, in his maiden directorial outing, shines both as a writer and director in never going overboard with his realistic treatment, even in the film's most emotional and uncompromising moments. In a television debate scene, one of the panellists points out how the government has funds for a satellite launch but can't even afford to have a rescue team in place to save a life. In another film, such scenes might have been mocked at but not in Aramm because it's delivered very sensibly.
Stepping out of her comfort zone, Nayanthara shines in a very strong role. It's gutsy of her to shoulder a socio-political thriller on her own and she proves yet again that she's an actress of substance. She is well backed by the supporting cast. The core of the film is about the shortage of drinking water but it's smart of Gopi to not set his story around it but use it as an undertone to address a bigger issue. Early on, he cheekily takes a dig at the government when a nurse stops to give polio drops to a young girl. We hear a dialogue that goes – ask the government if our thirst can be quenched by these drops.
Peter Hein does a splendid job choreographing the action sequences. The rescue operation scenes – aided superbly by cinematographer Om Prakash – keep us on the edge of our seats and the tension literally leaves us suffocated. Ghibran's background score elevates the tension, accentuating the whole mood of the film.
ott:10:ht-entertainment_listing-desktop
Personalise your news feed. Follow trending topics