2 leopards killed every year on roads along Mumbai's national park in past decade
Mar 14, 2018 10:05 AM IST
Data from SGNP, NGO Wildlife Protection Society of India (WPSI) and Mumbaiikars for SGNP revealed that 19 leopards have been killed around SGNP, most of them on the Western Express Highway (WEH) and Tungareshwar Wildlife Sanctuary (TWS) from 2008 to 2018
Over the past decade, one leopard, on an average, is killed every year on busy highways surrounding the Sanjay Gandhi National Park (SGNP) in the city.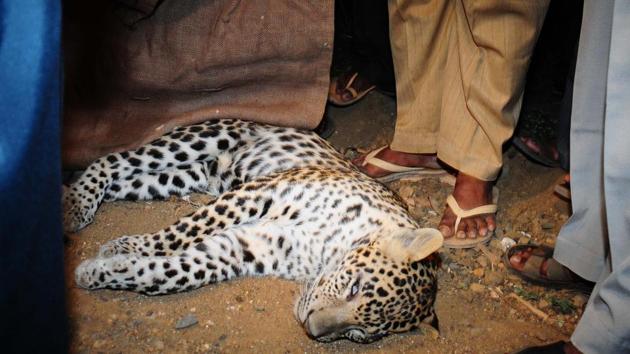 Data from SGNP, NGO Wildlife Protection Society of India (WPSI) and Mumbaiikars for SGNP revealed that 19 leopards have been killed around SGNP, most of them on the Western Express Highway (WEH) and Tungareshwar Wildlife Sanctuary (TWS) from 2008 to 2018.
Accidents were reported on the National Highway (NH) 8 (Mumbai-Ahmedabad highway); Mauje-Chena (West); Mumbai-Thane Ghodbunder highway; Bhandup-NITIE Road, adjacent to IIT Road; on the Thane-Ghodbunder Road, near Ghodbunder village; Vasai and TWS, which is forested on either side, and even on arterial roads of Film City and Aarey Colony, Goregaon.
A study conducted under the 'Mumbaikars for SGNP' initiative in 2013 revealed that 40 leopards died in road accidents along the periphery of SGNP from 1994 to 2012. "More than 60 leopard deaths have been reported so far from 1994, but this is far from the real figure, which is likely to be far higher," said Tito Joseph, programme coordinator, WPSI. "We have not been taking any preventive measures to control animal deaths, not only in Mumbai, but across India as development comes in conflict with conservation."
"Over the past two decades, the habitat of various animals within SGNP and TWS was first fragmented owing to encroachments. Later, increased urbanisation, developmental activities with introduction of road and railway lines, close to these green spaces, further compartmentalised the habitat. Now, what remains is bits of protected areas where we are trying to trap these free-roaming animals, which is not possible," said Krishna Tiwari, founder, Forest and Wildlife Conservation Society.
Apart from leopards, other animals killed in road accidents were monkeys, wild boars, civet cats, mongoose, snakes and deer, said forest officers. To curb these deaths, SGNP officials have decided to construct seven animal passageways along peripheral areas of the park, especially between TWS and SGNP.
"Since high-speed vehicle movement is not allowed within SGNP, such precautionary measures are not required. However, it is an issue on busy highways where there is no speed control and accidents happen when animals cross. Underpasses and overpasses are essential and this plan is a step in the right direction," said Dr Shailesh Pethe, veterinarian, SGNP. "In majority of the cases, the animals are killed on the spot and there is no way to save them. This precautionary measure will help smaller animals even more than the bigger ones."
A 2017 survey, released on February 6, revealed the presence of 41 leopards in and around SGNP, including the peripheral areas of Aarey Milk Colony, IIT-Powai, Ghodbunder village and Nagla Block, but failed to identify reasons why 21 animals, recorded during the last camera trap study in 2015, were missing this time.
"Leopards are moving outside SGNP. One such example is that of leopard Ajoba, who travelled from Malshej Ghat to Mulund. Even leopards from within SGNP, which have gone beyond Nagla into TWS, captured in camera traps, stands proof that leopards are crossing these territories. This is one of the probable reasons why 21 animals were not recorded in the study," said Nikit Surve, wildlife biologist, Wildlife Conservation Society India, who conducted the study. "The fact that seven animal passageways will be made part of the TWS wildlife management plan 2018-2028 gives hope for better protection of leopards and other free-roaming animals in the park."
Experts said underpasses and overpasses need to be made with proper planning for animals to easily pass. "The animal passageways need to be built as per the sight-specific mitigation measures developed by the Wildlife Institute of India (WII). In this context, it does not mean that culverts are underpasses for mammals," said Anish Andheria, president, Wildlife Conservation Trust. "With growing urbanisation in areas like Ghodbunder Road, green spaces on either side of the road are very less. The department needs to first ensure they remove all encroachments and restore green cover, and only then introduce passageways."
VB Mathur, director, Wildlife Institute of India, said, "Retrofitting passageways that are already being used as channels makes sense as most animals will use traditional pathways. For leopards, they will follow human passages. However, these paths need to be designed with habitat restoration, and making them look natural. Across the country, the situation remains grim for animal road kills. If we do construction without planning and without taking into consideration ecology and wildlife, the highways are only going to cause mortality."