95% work on Mithi river complete,
₹

659.83cr spent: BMC to Bombay HC

The BMC was responding to a PIL raising concern over waterlogging at various places in the city during monsoons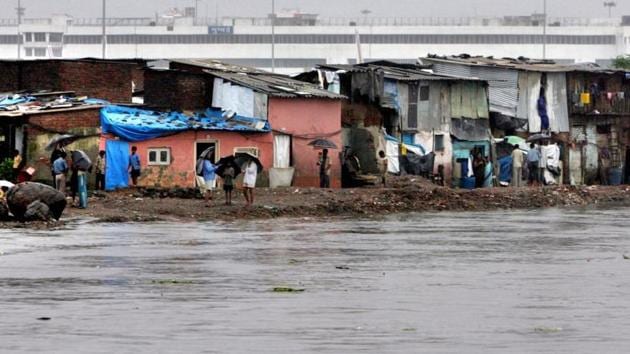 Updated on Mar 18, 2017 11:00 PM IST
Hindustan Times | By Kanchan Chaudhari
, Mumbai
In an affidavit filed in the Bombay high court, the BMC has claimed it has completed 95% of work on deepening and widening Mithi River and has so far spent Rs659.83 crore doing so.
The work on Mithi River, however, is not expected to bring any respite for low-lying areas, which witness water logging every year. The civic body itself has stated in the affidavit that there are at least 36 low-lying areas within its limits where sea water enters into the drainage system, causing a 'wall' effect and obstructing discharge of rain water into the sea during high tide.
The affidavit is filed in response to a PIL filed by advocate Atalbihari Dubey, raising concern over poor weather forecasting in the city in the wake of the June 2015 flooding when the city had come to complete standstill for two days. Dubey has also raised concern over poor rainwater storm drains because of which water logging at various places within BMC limits has become a regular occurrence during monsoons.
"95% of the work of widening and deepening of Mithi River has been completed till date," states the affidavit filed by Bharat Marathe, deputy municipal commissioner, Zone-V, adding that in the first two phases, the width of the 17.84km river, which carries overflows of Vihar and Powai lakes on the outskirts of Sanjay Gandhi National Park, has been widened from six metres to 60m.
Of the total length of 21.588km retaining wall to be constructed on both banks of the river, work of the 14.043km retaining wall has been completed by the civic body, the affidavit states. It adds that while 1,937m of this falls within the limits of the Airports Authority of India, work on construction of retaining wall in the balance 3,364m has been held up owing to encroachments on both banks of Mithi River.
The civic body has expressed inability in undertaking regular desilting work in major portion of the river. "Regular de-silting activity is not practically possible up to its bed level, as a regular sedimentation and other floating material is brought in by tidal water from Mahim Causeway up to the airport — a stretch of about 7.5km, where width of the river ranges from 100 to 230 meters," states the affidavit.
The affidavit adds that the BMC has also undertaken widening and deepening of other rivers flowing through its limits, like Oshiwara, Walbhat, Poysar, Dahisar and Vakola rivers through BRIMSTOWAD project, and substantial work of training these rivers have also been completed by construction of retaining walls on both their banks. All these fiver rivers also originate in Sanjay Gandhi National Park and pass through densely populated residential and industrial areas of the city.
According to the affidavit, total 23,949 meters long retaining walls have already been constructed on the banks of these five rivers, but the work on balance 16,618 meters has been held up due to encroachments on both sides, and can be undertaken only after the encroachments are removed and the land is acquired for carrying out the construction.
Close Story