All's not right with RTE: More misses than hits
Policy issues, poor implementation mean not every child is getting the right to a free education, even after seven years of Right to Education Act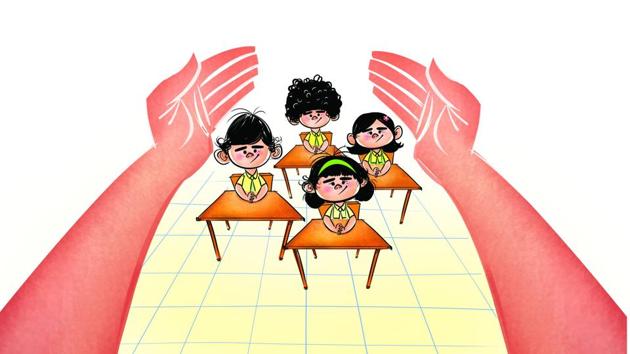 Updated on Apr 22, 2017 06:43 PM IST
It has been seven years since India made free and compulsory primary education a basic right of children. The Right to Education Act, enforced in 2010, was hailed as revolutionary as it promised free access to education for children from all classes. Today, however, it has more misses than hits to its name, education activists say.
Quota focus
Under the RTE Act, non-minority, unaided schools must set aside 25% of their seats for students from economically weak backgrounds. The schools must offer free education from Class 1 to Class 8, for which the government reimburses them.
One major issue with the implementation so far has been that all government efforts are concentrated solely on the quota, while other areas of the Act are largely neglected, educators said.
A major area of failure is the quality of education, despite several efforts by the Maharashtra government, such as the 'Pragat Shaikshanik' programme.
Two years ago, for instance, competency tests were started for students in Class 1 to Class 8, to assess skills in math and first language, but these have been conducted in a slipshod manner. The act says the tests should be conducted every three or four months to analyse the strengths and weaknesses of students and the data would be used to train teachers to adapt lessons or teaching styles accordingly.
But, the education department frequently changes the test timetables, making it difficult for schools to plan for them. Further, the responsibility of conducting the tests was thrust on schools without giving them proper instructions. There is no external supervision, which means schools take the whole process lightly, each one doing it their own way. Some schools have even asked students to take the tests home. "This is a complete mess. Schools cheat on the tests or skip them altogether," said Uday Nare, a teacher at Hansraj Morarji Public School, Andheri.
What's worse? The test results are not made public, defeating its purpose — the idea of the tests was for schools to know where they stand compared to other schools. There is no feedback from the government either.
"We feel the tests are held in a vacuum," said Chandrakanta Pathak, principal, HVB Global Academy, Marine Lines. "There is no point of holding the competency tests."
Failure of the no-fail
Schools said another area where the act's not been implemented properly was the no-detention policy — no student is detained till Class 8, even if she has not got passing grades. The policy was supplemented by the Continuous Compulsory Evaluation (CCE), a scheme that looked at all-round development of students.
Recently, CCE was rolled back for CBSE schools, with the government saying it brought down learning levels. The states were asked to modify it as per their needs. "Withdrawing the no-fail policy dealt a big blow to the RTE," said Rohan Bhat, chairperson, Children's Academy Group of Schools, Kandivli and Malad. Bhat added the policy was not implemented properly. "Schools misinterpreted no-fail to mean no-exams, but this was because of the lack of awareness about how to execute the policy," said Bhat.
Few under RTE
Minority schools and government-aided schools need not set aside the 25% quota under the RTE Act, leaving just 334 schools in Mumbai where children from weak backgrounds can get free education. The move to exempt minority schools, following a Supreme Court ruling, means several reputed schools in the city (most of them are religious or linguistic minorities) are exempted from the ambit of the RTE Act. And, many more are vying for the minority tag.
"Schools are now making a beeline to get the minority tag. The number of schools claiming minority status has shot up," said Sudhir Paranjape, a member of the NGO Anudanit Shiksha Bachao Samiti.
Of the 334 schools that do offer admissions, several do so only from Class 1, even though they have classes from kindergarten. This is because the government reimbursement begins from Class 1. This year, schools had the choice to pick their own entry-level, and most chose Class 1.
Education officials, however, said fewer seats was not the problem, as all parents want to apply to the most sought-after schools.
RTE frauds
Another issue is of parents trying to get children admitted under the quota, even when they do not qualify. Last week, a Sion school discovered six students allotted to them had fake birth certificates
Last year, schools in Goregaon — Yashodham and Lakshadham — found 30 to 40 parents had submitted fake income certificates to claim an annual income lower than Rs1 lakh. "There is a big racket in the RTE admissions. Last year, we found out about it because our staff checked documents. Before that, only the government would verify. Many more cases might have gone undetected," said a school spokesperson.
No drop-out checks
A drive mandated by the Act to identify students who never enrolled, or have dropped out — to ensure no child is deprived of education — has also failed. "These initiatives are superficial," said Herambh Kulkarni, an activist from Pune. "It isn't enough to register children in school. Monitoring to check if they actually attend is needed."
'I thought my son was lucky to go to a pvt school, not anymore'
Seven-year old Bilaal, from Dharavi, is the first in his family to go to a private, English medium school, thanks to the Right to Education Act that sets aside a 25% quota for children from economically and socially weaker sections. But, the prestigious Matunga school he studies in did not allow him to write exams this year, as his family could not paid them Rs2,000 for books and uniform.
The school demands Rs2,000 every year, even though, under the RTE Act, books and uniform should be given for free. "The school says they charge us because the government doesn't reimburse them for the books and uniform," said Abdul. "They keep pressurising us."
Last year, Bilaal got admission in the school through the quota. His father, Abdul, is a daily wage labourer and applied for admissions under the quota after local social workers told him about RTE. "Our financial condition is very poor, and I could never have afforded quality education for my kids," said Abdul. His two other children were enrolled in municipal schools, but Abdul wasn't happy with the kind of education they got there. "I thought my younger son was lucky to get admission in a private school."
That was until Saturday, when Bilaal could not write the exam. "My wife had started doing some tailoring work to raise money and pay the school, but we couldn't collect enough," said Abdul. He has complained to the education department, but no action has been taken so far. "This is not what I hoped for when I applied for the quota."
INTERVIEW: Madhav Chavan, CEO, PRATHAM
Madhav Chavan, a social activist and the chief executive officer (CEO) of Pratham, an education non-profit, talks about the successes and failures of the Right to Education (RTE) Act, 2009. Pratham's Annual Status of Education Reports (ASER) have been examining the implementation of the Act by checking infrastructure and quality of education in rural schools across India.
What has RTE achieved in the last seven years?
Nothing. The RTE is of no real consequence to the state government. It has achieved nothing in the last seven years. No one has taken it seriously. ASER reports show learning levels of students are slowly improving in Maharashtra, but we don't know what has caused it.
Why has the RTE proven ineffective?
The act is framed in such a manner that it doesn't compel the government to take any action towards improving the quality of education.
The act doesn't provide any scope for government accountability. It hasn't set any deadlines for meeting targets. You can't approach the court if anything in the act is not implemented.
Has the enrolment of students in schools increased after the Act?
It is interesting that the Act is focused on improving enrolment of students. But ironically, the Act came after we achieved 96% enrolment. So enrolling children in schools is not a problem. The real issue is once children are in school, the government is not compelled to see whether they are studying or not.
While enrolment is high, there are still many who drop-out. Why has the RTE failed to bring down drop-out rate?
The problem is in the definition of drop-outs. On paper, we have high enrolment, but there is chronic absenteeism. Instead of looking for children who haven't enrolled, RTE needs to find these absent students. There is no improvement in attendance in 10 years in most states .
ASER reports show learning outcomes in rural areas have improved in the last two years. If it's not the RTE, what has led to this?
There is a general consciousness to improve quality of education. But, this is independent of the RTE Act. The education department in the state is functioning like they always did. There has not been any change driven by RTE.
Read
SC: States should include HIV+ students under Right to Education
Close Story