Are patients in Mumbai being misled by HIV test policy?
Updated on Nov 30, 2017 11:58 PM IST
Collective study by KEM doctors and international NGO reveals that results obtained by subjecting patients to CD4 test are unreliable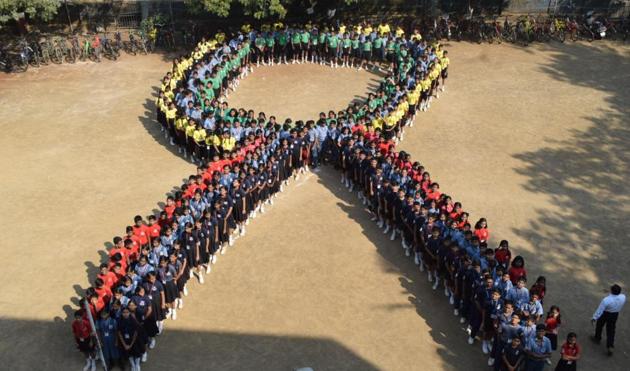 Hindustan Times |
, Mumbai
Aayushi Pratap
A study conducted by doctors from KEM Hospital, Parel, along with Medecins Sans Frontieres/Doctors Without Borders, an international non-governmental organisation (NGO), revealed that some human immunodeficiency virus (HIV) patients might have been misled into believing that their condition is stable.
The doctors subjected 2,246 HIV patients, irrespective of their immunity status, to the crucial viral load test. They test revealed that 8% of patients, who had a high CD4 count — an indicator good immunity — had a high viral load as well. The viral load test reveals the numbers of HIV virus particles in the blood, which reveals the stage of infection. Doctors said viral load is a more sensitive test compared to CD4 count.
"An indication of good immunity may not always mean that the virus particles are dying in the body. This is the reason why performing viral load test, alongside CD4 count, is crucial," said Dr Reena Verma, a city-based HIV physician.
In 2013, the World Health Organisation (WHO) released guidelines 'recommending' that all patients on antiretroviral therapy (ART) must undergo viral load test, to find out the status of their infection. But in India, under National Aids Control Organisation (NACO), HIV patients who are on first line ART are monitored on the basis of CD4 count. The doctors said results from this test an unreliable.
Dr Naresh Gill, a part of the international NGO), who led the study, said the 8% patients, who showed high CD4 count do not need to undergo viral load tests as per the NACO policy. "With high CD4 count, and absence of routine viral load results, such patients will think that the treatment is working fine. But in the coming months, they will fall ill because the virus is multiplying," he added.
HT spoke to an HIV patient, who was refused a viral load test at a government centre because he had a high CD4 count, suspects he has developed resistance to the ATR .
"Though my CD4 is good, I started feeling weak and lost weight. I suspected an increase in viral load. I have been turned away several times [from government centers] when I asked for the viral load test . If the test is done routinely, doctors will be able to decide further course of treatment", the patient said.
Dr Srikala Acharya, additional project director of Mumbai District Aids Control Society (MDACS), a body that implements NACO, said 8% is not a huge number when compared to the total number of HIV patients who were tested. "But NACO has said that by the end of next year, routine viral load test will be included in the programme," Acharya added.
Dr RS Gupta, deputy director general, NACO, confirmed that the number of machines to test viral load will be increased by 2018 using money from Global Fund.
To highlight the issue, members of Mumbai AIDS Forum (MAF) — formed by 30 NGOs — visited MDACS office in Wadala on Thursday demanding health ministry to conduct routine viral load test.
"Viral load test measures the stage of HIV infection and is the best way for health workers to understand if patients are responding to ART or have developed resistance, so that the treatment can be changed. Lesser the HIV infection in a person's blood, the less likely they are to pass on the virus", said Poonam Patkar, project director Committed Communities Development Trust, currently having secretariat, MAF.
Those who displayed the fighting spirit
'Hospital staff asked me to vacate the room immediately'
"At the age of 18, I was introduced to the world of sex, drugs, and alcohol," says Timothy, a Vasai resident, who has been living with the rare HIV-2 for more than 30 years.
By 20, Timothy, who was born into a family with a history of schizophrenia and unhappy childhood, would often visit Mumbai's infamous 'red light area' Kamathipura, near Grant Road, with his friends to solicit sex from commercial sex workers (CSWs).
"We didn't use protection. We believed it would make the act less pleasurable," regrets Timothy. In the next four years, he had sex with at least ten different CSWs.
After repeated bouts of sexually transmitted diseases (STDs), Timothy visited a Vasai hospital 1991 to find the cause of the problem. For the first time doctors suspected he might have contracted HIV.
"At that time, the words HIV and AIDS, were taboo," he said. "The hospital staff asked me to vacate the room immediately and check into to a health centre at Mumbai."
Timothy then visited KEM Hospital in Parel, but back then, there was no treatment available in the public sector for HIV. For 15 years he lived without treatment, which resulted in his hospitalisation eight times.
"The antiretroviral treatment (ART) was available only at private hospitals and that too for Rs 40,000. The price was so high that most parents couldn't afford," said Timothy.
Timothy, who is unemployed, has been on second line ART since 2006. "I have applied for a licence to drive an auto-rickshaw. Once I get that, I am hoping to make some money from it," he said.
(Name of the patient has been changed to protect this identify)
'My dreams shattered in seconds'
In 1992, Tony, who worked as a counsellor at Salvation Army, a charitable organisation, got a job opportunity in Saudi Arabia. His salary was four times what he earned here. After clearing the interview he visited a pathology lab for a medical test, as mandated by his future employer.
"That day, I didn't know what life had in store for me," said the 66-year-old.
When he went to get the results the next day, the laboratory staff kept him waiting for an hour. "They gave the reports to everyone else, but asked me to wait in one corner of the room. A lady walked up to me, told me I was unfit. She said I had AIDS. I blacked out," said Tony, who lost the job.
Tony suspects he contracted the virus during the years when he solicited sex from CSWs at Kamathipura.
Back then, HIV was mostly unheard of and those who knew about the virus thought it was the most dangerous disease, he said. "There were also no laws against being tested for HIV without one's consent."
He recalls the dread of breaking the news to his family and friends. "I was crippled by fear. My dreams were shattered in seconds," Tony said.
Days later, he mustered the courage to tell his brother, who hugged him and said things would get better.
Over the years Tony kept losing weight, fell sick frequently and couldn't hold on to a job. Twelve years later, Tony started medication, when ART was introduced in the public sector. Weakened by the virus and the side effects of the medications, Tony is trying to rebuild his life and is looking for a job.
'My father kept saying that I would get better by eating healthy food'
Until five years ago, Ganesh Acharya, 37, introduced himself as 'Jimmy'. "I was too scared to reveal my real identity for fear that people will find out about my HIV status. Also, I was a big fan of Bollywood actor Jimmy Shergill, so I took his name."
A history of child abuse, followed by the realisation of being gay, Acharya says he has fought a resentful family all his life.
In the 90's when he was 14, he moved from Nepal to Lucknow to get treated for jaundice. It was here that he got hint about contracting HIV. "I heard the doctors discuss that I was infected, but they never came and told me," said Acharya. His parents, who knew his condition, were in complete denial. "My father kept telling me that I would get better by eating healthy food. He was not ready to accept that I was infected with HIV," he added.
The news on internet told him that some doctors in Mumbai were treating HIV patients. "No one in my family was going to take me, so I knew I was on my own," Acharya said.
At 19, all alone, he left for to Mumbai. But he kept falling sick frequently. In 2002 he got pneumonia and was admitted to TB Sewri Hospital, where he says, he was treated for tuberculosis.
He later started treatment for HIV at Sir JJ Hospital. He got lucky with a job at a city based non-governmental organisation, and saved money to pursue a course in political science. He later got better paying jobs and presently works at Sanjeevani Trust. "I am a full-time HIV and TB activist," smiled Acharya.