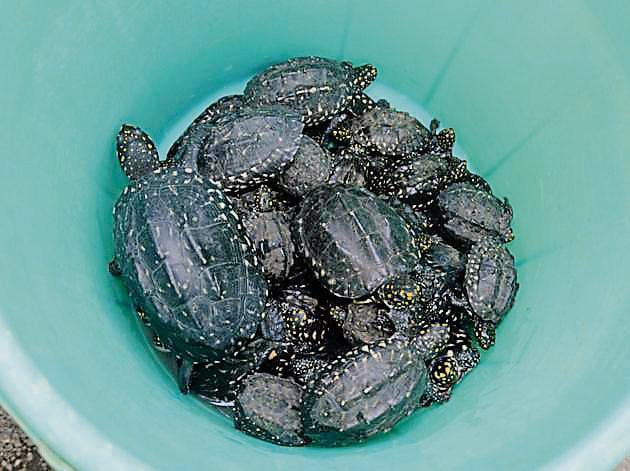 Bihar resident tries to smuggle 50 turtles, arrested in Thane
The Belapur wildlife crime control bureau, along with officials of forest department, Kalyan, and wildlife activists, laid a trap to arrest the 24-year-old
PUBLISHED ON MAY 07, 2018 12:04 AM IST
A 24-year-old man,Dilshaad Kapil Ahmad, was arrested with 50 black pond turtles (Geoclemys hamiltonii ) in Kalyan on Saturday night. Police said four of the turtles were dead.
The Belapur wildlife crime control bureau, along with officials of forest department, Kalyan, and wildlife activists, laid a trap to arrest Ahmad.
A resident of Patna, Ahmad was an occupant of room no 122 of the Maharashtra guest house near Kalyan railway station.
Following his arrest, a case under relevant sections of wildlife protection act 1972, was registered by the forest department. Dilshaad was produced in court, and has been remanded in custody for three days.
In the trap laid by the officials, Ahmad was called to Mumbai to sell the turtles.
"A team was formed to catch Ahmad red-handed. 46 turtles were found in a blue plastic tub, hidden inside a wooden cupboard in the room," said Muralidhar Jagakar, forest round officer, Kalyan.
"After searching the room where he stayed, we found four dead turtles too, in a bag. Ahmad revealed that the four turtles had died during his journey to Kalyan," he added.
The forest department will further investigate if there are more people involved.
"We are interrogating the accused to find out if there are more people involved. At this point, we cannot say if this a racket," said Jagakar.
As per wildlife activists, these turtles cost between ₹700 and ₹800 in Bihar, while in Mumbai, they cost between ₹3,000 and ₹5,000.
"The accused was operating an online service to sell the turtles illegally in Mumbai. As the turtles cost more in Mumbai, they consider selling it in the city,"said Suhas Pawar, wildlife expert, Kalyan.
Close