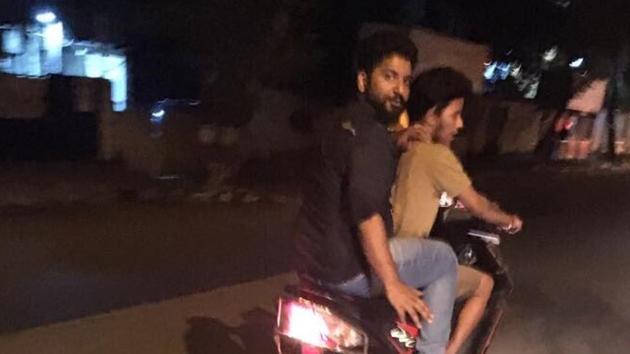 Bikers chase Mumbai woman at night, make lewd gestures; cops ensure she reaches home safe
The caller from Mumbai police control room directed Asira Tarannum to take a route towards the next checkpoint. "They also called me thrice to check if I had reached home safely," she said
UPDATED ON AUG 18, 2017 11:41 AM IST
Just a week after a fashion designer was stalked by a techie, who chased her in a car and landed up at her doorstep in the middle of the night, another chilling case of stalking has emerged from the city. A 25-year-old journalist was chased by two men on a bike for almost 3km in Andheri on late Wednesday night.
Recounting the harrowing experience, Asira Tarannum spoke to Hindustan Times on Friday and narrated how she was harassed on her way back home from an assignment, at 1am on Friday.
She was at Chitrakoot Grounds in Andheri (West), from where she got into an autorickshaw, and the two men started riding their scooter next to her vehicle. While one of them made lewd gestures at her, the other one asked her to accompany them. Tarannum said even as she warned them about calling the police, they continued their chase.
"They were constantly trying to stop my auto. I clicked their photo and calling 100… I immediately received a call back from the police," said Tarannum.
The duo did not appear drunk, the woman said, but instead laughed even as she clicked their photo.
Meanwhile, the caller from the Mumbai police control room directed Tarannum to take a route towards the next police checkpoint.
The journalist said that even the auto driver initially indulged her harasses by conversing with them, but once she threatened him with police action, he sped ahead.
Spotting a nakabandi near Juhu Circle, the men took a diversion and fled towards Vile Parle, she said.
"The police called me thrice to check if I had reached home safely. A lot of times, women do not speak about such issues and that is why these people go scot-free," said Tarannum. She even posted photos of the duo on social media, requesting people to help her identify them.
The police have registered a case against the unidentified duo under Section 354d (stalking) of the IPC.
Close