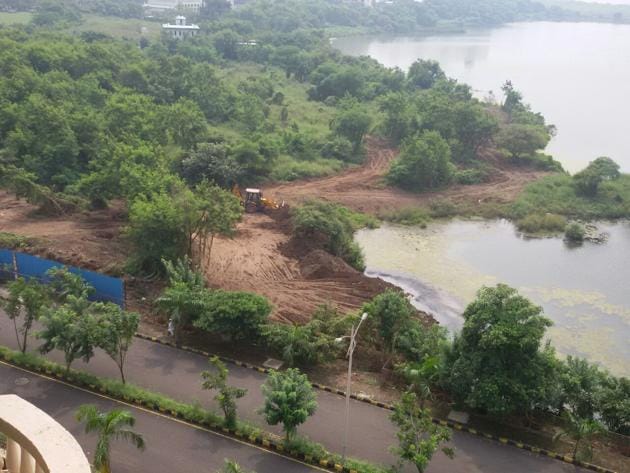 Bombay HC directs CIDCO, private company to remove debris from Navi Mumbai wetland
The HC directed Cidco and a private agency to remove debris from Talawe wetlands in a week's time
PUBLISHED ON APR 06, 2018 11:47 PM IST
The Bombay High Court (HC) on Friday directed the City and Industrial Development Corporation (Cidco) and a private company hired by the agency to remove debris from the Talawe wetlands in Sector 60, Seawoods, Nerul, Navi Mumbai, within a week and commence restoration work.
The order passed by Justice AS Oka and Justice Riyaz Chagla said that as per inspection report submitted by deputy conservator of forest, state mangrove cell, JR Gowda to the court on April 2, debris dumping was observed at the site. "CIDCO and Mistry Constructions Pvt. Ltd. are directed to remove the debris from the wetland by next Friday (April 13) and submit a report with photographic evidence to this court," the order said.
The next hearing in the matter is on April 13.
HT was the first to report on March 16 that after being unable to stop construction activity across an 80-hectare wetland patch that hosts migratory birds, a Navi Mumbai-based couple - Sunil Agarwal, 55, and Shruti Agarwal, 50 - had approached the Bombay HC for help by filing a petition against Cidco and Mistry Constructions Pvt. Ltd.
The petition by Agarwals contests a notification by the state government from October 5, 2016 that changed the land-use of the wetland patch from a no-development zone to regional park based on a proposal by Cidco to develop 17 residential buildings with 1,564 flats, 20 offices, and a golf course near Talawe wetlands.
During the last hearing on March 21, the HC bench had directed officials from the HC-appointed wetland grievance committee to survey the site and file a punchnama and take photographs as well. "On April 2, we had found that debris had been dumped across three metres of the wetland and water body by the private company hired by Cidco during constructions in November last year, which is a minor violation but a violation nonetheless. In February, we had asked CIDCO to remove the debris but they did not," said Gowda. "Based on directions by the court, we will check whether debris is removed by next week."
"The debris dumping is at a specific zone for this project itself. The HC pulled up the respondents for not removing the debris till date. When the advocate for Cidco said that debris had been removed in February itself, the court pointed out that the report is from April 2 and the claim being made by the advocate was false," said Agarwal. "The bench also directed the parties to initiate restoration of the area."
Natural wetlands comprise of creeks, estuaries, marshes, riverbanks, seashores, backwaters and coral reefs. Manmade lakes, saltpans, reservoirs, abandoned quarries and dams are also considered as wetlands. While mangrove destruction in Maharashtra was banned by the HC in 2005, wetland destruction in the state was banned in 2012.
Mumbai's wetlands
Mumbai suburban
- 534 sq km total geographical area
- 132.82 sq km is wetland cover
- 1.31% of the total wetland cover of the state
- 24.87% is the wetland cover of the total geographical area of Mumbai suburbs
- 412 wetlands
Mumbai city
- 69 sq km total geographical area
- 7.63 sq km is wetland cover
- 0.08% of the total wetland cover of the state
- 11.06% is the wetland cover of the total geographical area of Mumbai city
- 63 wetlands
(Source: National Wetland Atlas, Maharashtra state)
Threats to the wetland biodiversity:
· Encroachment by slums
· Pollution from industries (chemicals, oil, grease, pesticides)
· Poaching of birds
· Fuel wood collection from mangroves
· Electrocution of birds on high-tension wires
Close