15 killed, 12 injured after collapse of Mumbai building; many feared trapped
Updated on Aug 31, 2017 05:19 PM IST
A three-storey building collapsed in Bhendi Bazar area of south Mumbai.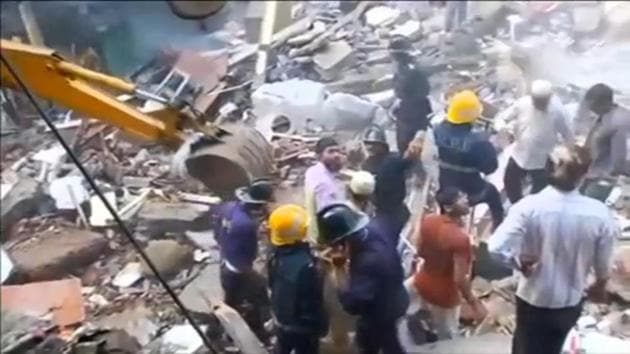 At least 15 people were killed and over 30 feared trapped after a 117-year-old five-storey residential building collapsed in the congested Bhendi Bazaar area of south Mumbai on Thursday, days after torrential rain pounded India's financial capital, officials said.
Thirteen tenants, including 12 families, were living in the building at Pakmodia Street, where underworld don Dawood Ibrahim once lived. Some reports said it also housed a play school but the children had not arrived when the building collapsed.
"Five patients are in critical condition and have been kept under observation in the Intensive Care Unit. They have suffered multiple injuries and fractures. Rest are currently stable," JJ Hospital's Dr TP Lahane said.
Nearly 125 fire brigade officials and 90 members of the National Disaster Relief Fund were rushed to the site for the rescue operations. Three adjoining buildings were also being evacuated to ensure safety, said BMC officials.
Rescue workers in hard hats clambered up the large mound of concrete rubble and steel rods and hammered at concrete slabs to reach below the debris. Cranes and bulldozers were also deployed as residents helped with bare hands.
According to news agency PTI, at least three people were pulled out alive from the rubble.
Police have yet to determine what caused the collapse on Thursday, which was again testing the city's rescue operations after 14 people were killed by floods from heavy monsoon rains earlier in the week.
"Our priority is to pull out at the earliest those trapped under the rubble of the dilapidated building," said Maharashtra industries minister Subhash Desai, who is also in charge of Mumbai.
"Once the rescue work gets over, the government will conduct a probe to ascertain the factors behind the building collapse. Strict action will be taken against those found guilty," he told reporters.
The collapse is the third in Mumbai in over the last two months. So far, 33 people have been killed in these collapses.
The building came under the ambitious Bhendi Bazaar redevelopment project that envisages cluster redevelopment of the entire densely populated locality crammed with shops, narrow alleys, and old buildings, spread across 16.5 acres.
"The trust had already shifted seven families in 2013-14. Maharashtra Housing and Area Development Authority (Mhada) had issued notices declaring the building to be dilapidated along with an offer of transit accommodation to the remaining tenants," Saifee Burhani Upliftment Trust (SBUT), which has undertaken the redevelopment project worth Rs. 4,000 crore, said in a statement.
Local corporator Rais Shaikh held the development authority responsible for the collapse.
"The authorities should have evacuated the tenants a long time back as this building is unsafe. An inquiry should be instituted under a retired high court judge about this collapse," Shaikh told HT.
(With agency inputs)