Call me by my name: Addressing the confusion and awkwardness around love and disability
May 05, 2018 12:35 AM IST
About 200 people gathered to discuss how we can make conversations easier without either putting people with disabilities on a pedestal or rendering them completely invisible
The last time you spoke to a person with disability, did you reference their 'bravery' or the 'problem' they were bravely dealing with? Did you throw in a sympathetic smile, and ask about their 'special sixth sense'?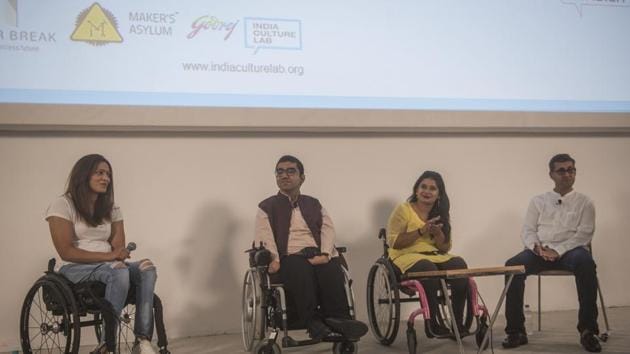 Chances are you did… most people do, unfortunately. And at a panel discussion titled Freedom to be Flawed: Awkward Conversations Around Disability, held at the Godrej India Culture Labs in Vikhroli, the message was clear — they want you to stop.
The panelists included Divyanshu Ganatra, India's first blind solo paraglider, Kartiki Patel, a wheelchair-bound national-level badminton and basketball player; Nipun Malhotra, who suffers from arthrogryposis and works in the area of health and advocacy for people with disability; and activist/model Viral Modi, who is also wheelchair-bound.
The evening saw about 200 people with and without physical challenges gather to discuss how we can make conversations easier without either putting people with disabilities on a pedestal or rendering them completely invisible.
One of the first questions from the audiences was about the right way to refer to someone with a disability. "Technically, you should just call me by my name," said Ganatra, as the crowd burst into laughter. "Please do not call us by the newly coined term 'divyang', which means one with divine body parts," he added.
In conversations, there is also a need to be politically correct all the time, the panelists agreed. "The path to meaningful conversation is not beating around the bush," said Malhotra.
There is no right way to be empathetic and sensitive to people with disability, the panelists agreed, but a good way to start is to always treat someone with a physical disability as an equal.
"Awareness among caretakers is absolutely important too, to make the disabled person feel comfortable and help others make conversations with them," Malhotra added.