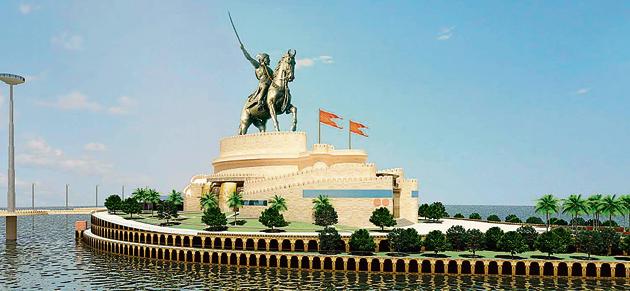 Congress creates ruckus in Assembly over height of Shivaji memorial in Mumbai
Opposition members tried to stall the proceedings and trooped into the well of House, raising slogans against the governmen
Hindustan Times | By Pradip Kumar Maitra
, Nagpur
UPDATED ON JUL 18, 2018 10:58 AM IST
A ruckus broke out in the Maharashtra state Assembly on Tuesday over the height of the proposed statue of Chhatrapati Shivaji Maharaj in the sea off the Mumbai coast.
During a point of propriety raised by the senior Congress member, Prithviraj Chavan, he said that the government had reduced the height of Shivaji's statue and increased the sword's length. He claimed that he got the information through an RTI.
Chief minister Devendra Fadnavis said there was no such move to reduce the statue's height and that a consultant has been appointed to study the project after the Union Environmental Ministry cleared the proposal. Fadnavis accused the Opposition, particularly the Congress, for forgetting Chhatrapati Shivaji Maharaj and not erecting a proper memorial.
The Opposition members tried to stall the proceedings and trooped into the well of House, raising slogans against the government.
When Atul Bhatkhalkar from the BJP said the so-called member was unnecessary raising the issue in House, the Opposition termed it derogatory and demanded his apology. The House was adjourned thrice.
Bhatkhalkar initially denied making any such derogatory remarks and tried to clarify that it was targeted against Chavan. But the Opposition demanded his suspension from the House and also an apology.
The Shiv Sena initially attacked the Opposition, but took a U-turn and sought an apology from Bhatkhalkar. Sena members stormed into the well of House and raised slogans against Bhatkhalkar.
It took another adjournment to pacify the Opposition. Bhatkhalkar sought an apology from the House and people of Maharashtra. The Speaker informed the Opposition that a meeting was held and Bhatkhalkar was reprimanded.
Close