Degree in hand, 4 Mumbai youngsters got their hands dirty; 3 years later, they lead the way
Updated on Mar 26, 2018 10:49 AM IST
Group helps 123 societies and 291 restaurants manage waste, sensitise public about concept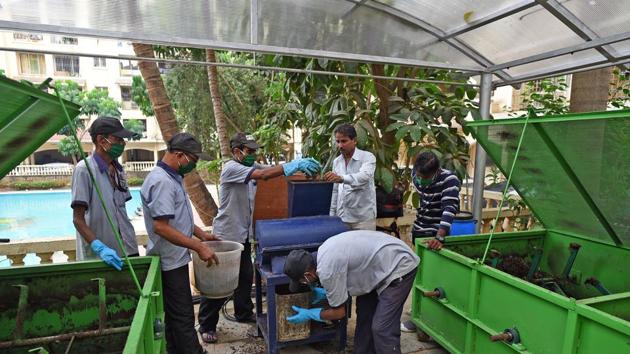 Hindustan Times |
Yesha Kotak
Three years ago, four youngsters after completing their Masters in Green Technology decided they didn't want a high-paying job. Instead, they started an organisation to help citizens learn about the importance of managing household and garden waste. Today, Sanjeevani S3 manages waste for 123 societies and 291 restaurants across the city and has two projects coming up in Pune and Varanasi.
"When we graduated, we realised there was no sensitisation towards waste management. That's when we decided to start awareness courses in schools among students on composting, vermi-composting and waste recycling. As part of the course, we explain the problems of not managing waste and also teach them about the solution. We started with one school. Today, the course is being taught in 203 schools and 33 colleges," said Zulkif Shaikh, co-founder, Sanjeevani S3.
Apart from conducting awareness sessions among students, the group collects three-and-a-half tonnes of dry waste and 800 kg of wet waste per day from societies and restaurants across Kandivli, Borivli, Malad and Dahisar.
"People don't understand waste segregation, as a result of which sometimes electronic waste (e-waste) is also disposed along with household waste to landfills. Though the civic body manages waste in landfills, a systematic study says that because there is no proper waste segregation, these heavy metals from e-waste affects the soil," Shaikh, who is 26, said.
The wet waste is then processed at their site in Malad, while the dry waste picked up by 18 rag pickers is then sent to 30 companies to be recycled. The compost generated from processing wet waste is given to the societies for their gardens, distributed free to anyone to approaches them or sold for a fee.
"When we conduct sessions regarding waste segregation, this is how we define it — everything that God has created such as leaves, fruits, vegetables is wet waste, everything that we humans create like paper or plastic is dry waste, everything that runs on electricity is e-waste and everything that comes out of or used by the human body is bio-medical waste," Shaikh said.
The three other co-founders of Sanjeevani S3, who are all in their twenties, chose to remain anonymous.
Apart from processing waste in their workshop, these youngsters conduct 'in your backyard' programmes for 80 societies in Kandivli, Borivli, Malad, Dahisar, Mira Road, Powai and Cuffe Parade, where the waste generated by these societies is processed in their premises. The group conducts sessions for residents and the staff, wherein they are taught how to segregate and process their waste, following which a composting unit is set up in the building premises. On a daily basis, around 15 tonnes of waste on a cumulative basis is managed by the organisation.
"We had to explain the residents about the segregation process once, now they have become so involved in the process, that all I have to do is go around and monitor the quality of compost at these places," said Poorva Sonawane, project coordinator, Sanjeevani S3.
Sukla Das is a resident of Valley of Flowers in Kandivli, where a semi-automatic composting system has been set up since the last six months and wet waste collected from eight wings of the society is managed in their premises. Das believes they have ended up saving a lot of money after the compost unit was set up.
"We never realised when BMC made changes regarding waste collection and management. We have personally saved a lot of money because now we do not use plastic bags for disposal of waste. Also, all the compost made from our waste is used in our gardens. We now have plans of selling some of the excess compost," Das said.
Prabhakar Shetty, vice-president, Ahar (Indian Hotel and Restaurant Association), Kandivli zone, said such initiatives are a big help to hotels.
"BMC comes up with various caps every now and then, and then we have no clue how to manage our waste. When we have someone to manage our waste, we can carry out our work easily," Shetty said.