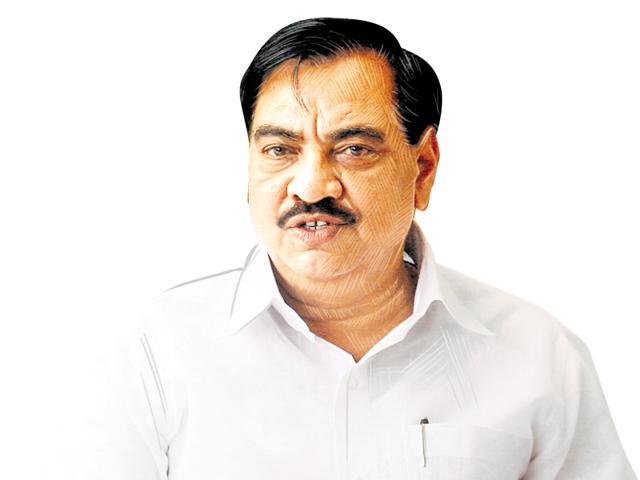 Fresh corruption claims against ousted Khadse
UPDATED ON NOV 03, 2016 12:36 PM IST
Days after chief minister Devendra Fadnavis said he would be happy to see his senior party colleague and former revenue minister Eknath Khadse back in the cabinet, the ousted BJP leader finds himself in fresh trouble.
Read Will be happy if Khadse returns to cabinet, says Fadnavis
The claim made by the activists is that contrary to Khadse's known income during his term as a legislator and minister from 1990 to 2016, the senior BJP leader and his kin amassed land and properties that valued at tens of crores.
The activists claimed Khadse and his wife alone owned agriculture land of around 94 acres and non-agriculture land plots of 13.32 lakh sqft, besides more than 30 properties, including a farmhouse, two godowns, 10 flats, including one in Andheri and another in Powai, and two bungalows. The letter questions how this was possible with Khadse's basic income of Rs14.15 lakh (quoted in the letter), with an upper limit of Rs72 lakh, taking into count all allowances, perks.
The letter alleges that the properties were amassed by violating existing norms while converting the land use, registration of sale deeds and by showing a lower market value. The land parcels listed in the letter include agriculture land in Nashik, Dhule and Jalgaon districts, besides non-agriculture plots and flats in various cities. The letter has tabulated assets of Khadse, his wife Mandakini, their deceased son Nikhil, daughter-in-law and Member of Parliament Raksha Khadse and two daughters, Rohini and Sharada and their husbands. It also mentioned the family's known sources of income as listed in election affidavits and latest annual income returns.
Khadse refuted these allegations. "Why is it that only Damania is making these allegations against me and no one else? I think the secret behind this should be uncovered,'' he told HT, hinting at a political conspiracy behind the allegations.
"I have filed all income-tax returns. I am not a businessman, but a farmer. And I have inherited land, which over the years I have converted into several NA plots. These allegations are unsubstantiated. There are 27 defamation cases filed against Damania and our plea in all of them is that she submit evidence. Instead, she is dashing off letters for publicity.''
Damania told HT, "We have documentary evidence for all the allegations made in the letter and are more than willing to submit it to the authorities. If they don't take action, we will move court. This evidence has been painstakingly collected and we had first met the governor regarding these demands in June.''
Some of the controversial land parcels acquired by the Khadses, according to the letter, are in Mehrun, Satod, Muktainagar taluka (43 small plots) of Jalgaon. Besides this, the transactions also include a gift deed of a flat estimated at Rs44 lakh made to Khadse's wife Mandakini on the same day that the person concerned registered the sale deed in Nasik, land acquired in the command area of an irrigation project when Khadse was the water resources minister.
In Mehrun, Khadse's two daughters, for instance, own 10 plots spread across 61,687 sqfeet, part of the 13-hectare land originally reserved for Maharashtra State Road Transport Corporation (MSRTC) and later de-reserved for a 'middle-class housing society'. This society includes several of Jalgaon's rich and powerful businessmen, politicians and developers, including Khadse and another sitting BJP minister. This transaction and change of land use in this matter is currently under the scanner in the Jalgaon magistrate court. In Satod, one of the examples mentioned includes purchase of two plots of agriculture land by the Khadses. The use of this land was first converted to educational purposes and within one month changed further to residential use. The said land was then converted into 1,037 plots.
Close