Fruit for thought: Healthy eating is now a mandate in most Mumbai schools
Hindustan Times, Mumbai |
, Mumbai
Ankita Bhatkhande
Sep 23, 2018 06:15 AM IST
Initiatives started to educate students and parents; eliminate junk food from children's diet
Schools in the city are starting to pay more attention to students' nutrition needs. From 'fruit breaks' to cooking competitions, educational institutions are finding inventive ways to involve parents, and school curricula to improve children's diets.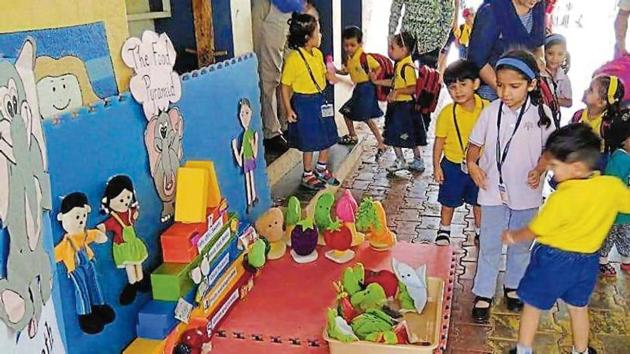 Sion's DS High School recently introduced a special curriculum on nutrition and food habits for Classes 1 to 10. The school's nearly 3,500 students have been learning about nutrition and the importance of eating right.
"We get students from poor, middle-class households who have a very high junk intake as their parents are mostly away for work. Our annual health check-ups revealed deficiencies in vitamins, calcium, etc, which prompted us to take up awareness around nutrition as a key task," said school trustee Rajendra Pradhan. The curriculum covers topics ranging from the food pyramid to role of nutrients.
City-based paediatrician Dr Rupal Dalal suggests parents replace all instant foods – like instant noodles and fried products – with home-made cheap yet healthy options. She also said parents should be taught how children should be fed.
"For instance, giving a fruit on an empty stomach is dangerous as fruits contain fructose- a form of sugar. Similarly, giving them milk before breakfast is a wrong practice although very common. With this, the child loses their appetite and doesn't eat breakfast well," said Dr Dalal.
Parent Reema Singh realised that a lot she considered healthy was actually low on nutrition.
"I would often send sandwiches in my son's tiffin. However, the school nutritionist wrote to me stating that eating bread in any form was not nutritious enough. She asked me to reduce the frequency of bread and asked me to add vegetable parathas and other such items in the tiffin routine." Singh said with help from schools, parents who are otherwise busy to monitor a child's food practices were getting help to plan more nutritious meals.
A recent survey conducted by Fitterfly, a child nutrition venture, with 2,000 children across the country, found close to 70% students have iron deficiencies. Between 50-60% are deficient in calcium. Fitterfly then started the #SahiKhao campaign, which a number of city schools participated in, to educate children, their schools, and their parents.
"While most schools talk about the importance of nutrition, the information is very general and can be easily forgotten. We, therefore, came up with an app that has a food inventory. Parents can enter the food items that the child has eaten in a particular day and will get the calories and nutrition values of the same," said Dr Arbinder Singal, co-founder, and CEO of Fitterfly.
Swati Popat Vats, president of the Early Childhood Association and director of Podar Jumbo Kids, a preschool chain, and a partner in the #SahiKhao campaign, said schools need to prioritise nutrition.
"At our schools, we do not allow junk food of any sort in tiffin boxes. Even at birthday parties, kids are encouraged to distribute fruits instead of cake. Even our teachers are not permitted to consume soft drinks or junk on campus," said Vats.
Nutritionists say that parents of school-going kids and schools need to reconsider their children's diet. To this end, Oberoi International School in Goregaon has formed a food committee that includes school administrators, chefs, nutritionists, parents, and student representatives, who discuss progressive measures to improve and maintain the food experience.
At Walkeshwar's Birla Open Minds International School, there is a designated fruit break to encourage students to eat one fruit every day. "The timing of the fruit break is between two important meals – breakfast and lunch – the ideal time for a human body to consume a fruit, as the absorption of the fruit is best if it is consumed before the intake of carbohydrates," said a school spokesperson.
Principal Seema Maindiratta of DAV International School, Kharghar, said the school has a strict no-junk policy and monitors students' tiffins and does not allow them to carry junk. "In our canteen, we do not have any packed food or sodas," she said.