Green spaces in Thane become 'no-entry' zones till Metro work is over
Nov 29, 2018 12:27 AM IST
Harit Janpath areas are used by residents for walking, jogging, relaxing and exercising
The pedestrian-friendly footpaths, constructed in 2012-13 along the Eastern Express Highway, are out of bounds for 30 months.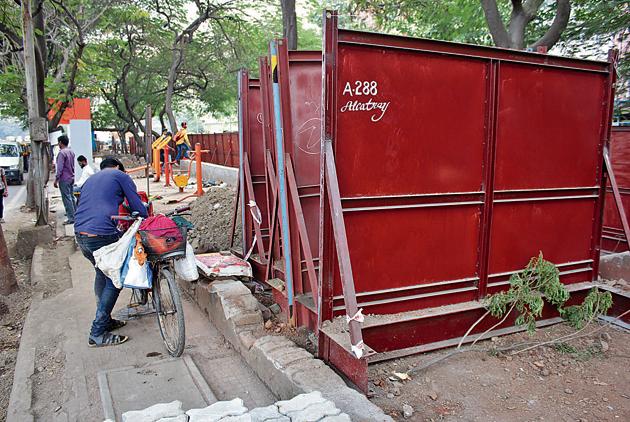 The Mumbai Metropolitan Region Authority (MMRDA) has barricaded the left side of the stretch from Teen Haath Naka to Cadbury junction for Metro construction work.
An official from the Thane Municipal Corporation, requesting anonymity, said, "The MMRDA is checking the underground utility services to decide the alignment."
"They have dug up trenches along the highway and barricaded the green footpaths. They have informed us that the footpaths will remain barricaded for safety purpose till the Metro work is completed," he said.
The work on the Wadala to Kasarvadavli Metro started in Thane from July 21.
The MMRDA has not yet finalised the alignment of the Metro. However, barricades are in place from Eastern Express Highway to the Ghodbunder Road Highway.
The Harit Janpath areas are used by residents for walking, jogging, relaxing and exercising. Many delivery boys, postmen or salesmen were seen resting at the green spaces in the afternoon.
The corporation spent crores of rupees on these footpaths which might be damaged in the ongoing Metro work.
The TMC official said the footpaths will not be damaged during construction work.
"The Metro line will be 9 metres above the ground. After the Metro work, the MMRDA will repair the Harit Janpaths and the other footpaths," he said.
An MMRDA official requesting anonymity said, "We had taken permission for barricading the area from the garden department of the TMC. The work will involve the use of heavy machinery which might pose a risk to pedestrians. To ensure their safety, the barricades will not be removed till the work of piers is completed. The work will take around 30 months to be completed."
He added that the work of soil testing and surveying the utilities is on.
"We will repair the lawn, garden and the footpath if they are damaged during the Metro work," he added.