Have industrial visits from Mumbai colleges been reduced to mere picnics?
Apr 30, 2018 12:34 PM IST
Experts say trips have become more of an excuse for students to visit popular locations
An amusement park in Khopoli recently projected itself as a destination for college 'industrial visits', introducing training modules for various professional courses.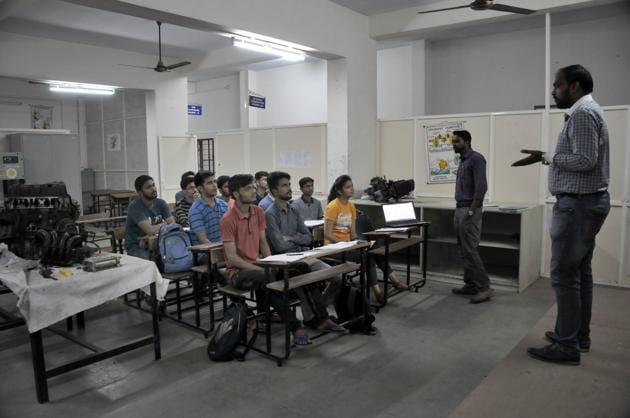 Generally, industrial visits are part of professional courses such as engineering, management, hospitality, architecture and media, which are aimed at providing practical exposure to students.
Guided by teachers, students are required to spend time at industries and organisations related to their courses and interact with the employees of specific field.
But in the recent years, these visits have become more of an excuse for students to go on an elaborate holiday and visit popular destinations such as Manali, Kashmir and Goa.
Often, these trips are arranged by colleges and sometimes with a passive approval from the institute.
"Students spend the day amusing themselves. I don't think there's any actual industrial visit taking place," said Kiran Talele, associate professor, Sardar Patel Institute of Technology (SPIT), Andheri.
Last year, students pursuing mass media courses at an institute located on Kalina campus of Mumbai university went to Jaipur on an industrial visit. While the trip included visits to a radio station and a newspaper office, it was largely about sightseeing in the Pink City.
"The destination was jointly decided by the institute and the students. Visit to the industry is just for namesake, though we did learn how a radio station works and how newspapers are printed," said Zakir Shaikh, one of the students.
Recently, a management college in south Mumbai organised a similar tour for its students. The itinerary included visits to a few corporate offices in Chandigarh and stay in Manali.
"We learnt how businesses work. We also got rejuvenated after studying for a year," said one of the students. He added such trips are mandatory for the first year Masters of Management Studies (MMS) and the expense on such visits is part of their fees.
According to Talele, industrial visits allow colleges to avail student discounts at various places.
Also, parents are more comfortable allowing their children to go on an educational trip rather than a picnic with their friends, said a professor from Veermata Jijabai Technological Institute (VJTI), Matunga.
SS Maghribi, training and placement officer at MH Saboo Siddik College, Byculla, said colleges arrange for such 'mixed' trips as they ensure better attendance.
"There's no provision for recreation during local industrial visits. However, students want it to be a part of their outstation trips. It's affordable for colleges to arrange for such trips if a large number of students are part of it," he added.
However, the VJTI professor said, "It is wrong to go on a picnic in the name of an industrial visit. While students need to gain interdisciplinary knowledge and learn new technologies, why go outside Maharashtra? Most of the industries are located in Mumbai and Pune."
In addition, corporate houses seem to be latching onto the 'fun' aspect of industrial visits.
Speaking about their training modules, Dhimant Bakshi, joint chief executive officer, Adlabs Entertainment Ltd, said, "Our programme aims to attract youngsters to the theme park industry, which is full of fun and entertainment. So, as a whole, it will contribute to the growth of this industry by generating skilled workforce as well as employment."