Illegal sand mining continues in Raigad district
Mar 31, 2017 11:50 PM IST
Beach sand mining at Kihim had led to a 70% decline and a 10-feet drop in sand at the beach that led 25 trees getting uprooted due to soil erosion. 
Unabated illegal sand mining continues in Raigad district, according to environment group Awaaz Foundation, which filed its fourth complaint this year.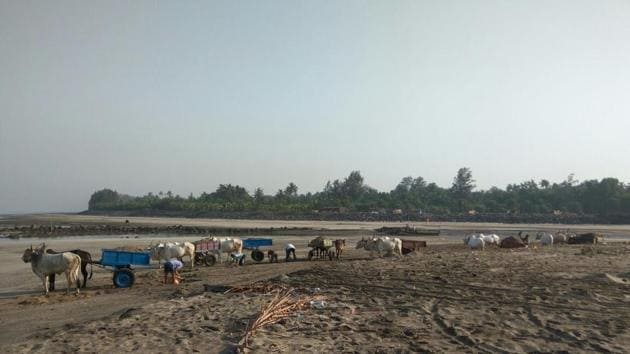 Awaaz has images that show sand being carted away by bullock carts along a permanent access road that has been constructed from Awas to Kihim Beach, near Alibaug.
"It is distressing to note that sand mining at some of the most beautiful and protected beaches have continued for decades in spite of regular complaints," said Sumaira Abdulali, convener, Awaaz Foundation. "In spite of sand being carted away in large volumes and consequent drop of the beach level by almost 10 feet, land erosion and falling trees, there appears to be no will to implement long term action against illegal beach sand mining in Raigad District."
HT had reported on February 6, 9 and in May last year that rampant illegal sand mining was taking place across various areas in Raigad district. Suction pumps were being used to suck out sand from Mahad to Dharamtar creek. Additionally, beach sand mining at Kihim had led to a 70% decline and a 10-feet drop in sand at the beach that led 25 trees getting uprooted due to soil erosion.
"Even though the district collector took action at Kihim in the past, the government needs to block the access road being used during low tide by the bullock carts immediately," said Abdulali.
State government officials said that they had taken cognisance of the complaint. "Illegal sand mining is becoming a serious concern for the state and may hamper tourism. The Raigad collector is the chairman of the district coastal zone management authority and she is squarely responsible for taking action. We will be taking up the matter with the collector and ensure that such cases stop," said Satish Gavai, principal secretary, state environment department. "Similar to Awaaz, we want more citizen activists to come forward and expose such cases so that there is better deterrence."
While officials from the Raigad district collector's office refused to comment in the matter, officials from the Konkan divisional commissioners' office said, "We have received pictures of the path being used by the bullock carts. Local officers have already been intimated to block it and take action at the site," said Bhausaheb Dangade, Konkan deputy commissioner (revenue).
Why you should care
Sand mining is a major environmental concern which may threaten the existence of over 70% of the world's beaches, and also contribute to major land erosion, compromising water security, affecting climate and many more such fatal calamities.
Geologists said that sand mining was responsible for affecting the natural flow of rivers by creating pits along the river bed. If excessive mining is done close to infrastructure projects such as bridges, it loosens the foundation of such infrastructure projects and if such illegal activities continue, it may even lead to inundation.
The Law
In 2014, the National Green Tribunal (NGT) had banned sand mining in coastal regions of many states, including Maharashtra, identifying that it was harming the environment. In 2016, the ban was lifted in Maharashtra's coastal districts of Sindhudurg, Ratnagiri, Raigad and Thane, after the state government promised the NGT that it will ensure that mining will not affect the environment.
However, various court orders including Bombay High Court, Supreme Court and CRZ notification make it clear that beach sand mining under any circumstances is totally prohibited across the country.
"Exciting news! Hindustan Times is now on WhatsApp Channels
Subscribe today by clicking the link and stay updated with the latest news!"
Click here!