In Maharashtra, vicious cycle of cotton farmers' woes continues
Hindustan Times |
, Mumbai
Ketaki Ghoge and Surendra P Gangan
Feb 18, 2018 12:18 AM IST
The big worry is that the pink bollworm present in the soil can attack the cotton crop again in the upcoming kharif season.
"If we plant cotton, we may be doomed, if we don't, we are doomed," said Ramdas Turi, a cotton farmer from Pandhari village in Yavatmal district, 160km from Nagpur, just as he set his standing cotton stalks and infected bolls ablaze this month.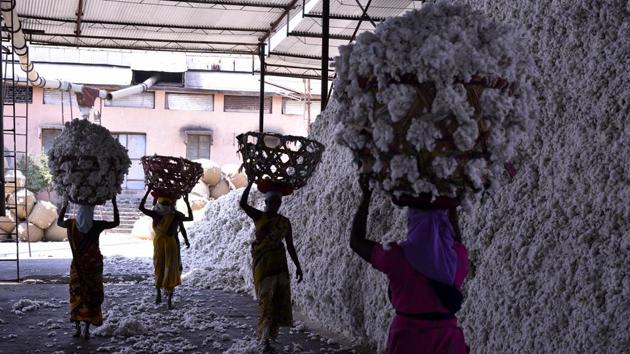 Turi, who had planted cotton on his six-acre land last year, got less than one fourth of his average yield and suffered a loss of Rs50,000.
Stay tuned with breaking news on HT Channel on Facebook.
Join Now
Despite the loss, Turi will still plant cotton next year, even if it means seeking credit from a moneylender at exorbitant interest rates. "Nothing else can give us the yield that cotton does, especially on non-irrigated land," he said.
Turi's sentiment best describes what several cotton farmers in Vidarbha told the Hindustan Times in the backdrop of the pink bollworm attack last year, and the approaching kharif sowing season in June.
HT has reported on the cotton crisis in the state, following the pest attack, which has left 41 lakh farmers from the agrarian-troubled regions of Marathwada and Vidarbha facing a crisis of epic proportions. Nearly, 32 lakh hectares of cotton crop area was hit last year by the pink bollworm attack.
In arid Marathwada, too, farmers despite losses say they will cultivate cotton, although they might reduce the area under cultivation. Despite the hardships, majority of farmers especially those dependent on rain-fed farming, feel cotton can give them yield and returns not feasible in other crops.
The pest attack of this scale in Maharashtra has revealed that pink bollworm has developed resistance to the toxins in BT (genetically modified seeds) cotton.
With more than 90 per cent of land under cotton cultivation dependant on BT cotton, the pink bollworm's resistance to BGII technology can make farmers vulnerable to more losses unless some necessary steps are taken. The big worry is that the pink bollworm present in the soil can attack the cotton crop again in the upcoming kharif season.
There is a general consensus among farm experts and majority of stakeholders that pink bollworm infestation can be managed effectively if farmers change certain existing practices and adopt recommended guidelines to kill the life cycle of the pest.
"The pink bollworm infestation has been registered in south and central parts of India over the past couple of years, but not in north India," said Dr VN Waghmare, director, Central Institute of Cotton Research (CICR), Nagpur. "One of the reasons for this is the trend in our parts in recent years to provide more irrigation and continue to harvest the crop till beyond January."
"In north India, where irrigation is available throughout the year, farmers opt for a rabi crop after cotton unlike Maharashtra where farmers have been increasingly dependent on cotton as a monocrop and take yield up to March or even beyond."
This provides the pest an opportunity all year around.
CICR has advised the state government and farmers on guidelines and recommended practices to avoid another infestation this year. These include using non-BT seeds on refuge of farms, deep ploughing during summer to expose the pupae of the larvae and destruction of cotton stalks post-harvest using shorter variety of seeds, among others.
After sowing, recommended methods include laying pheromone traps to attract moths during the planting cycle and spraying insecticide depending on the economic threshold level of a certain number of moths per trap, among others.
"There is no doubt that pink bollworm infestation can be managed if farmers adopt the recommended practices. It has been done in Gujarat to a great extent through collaboration of all stakeholders and it can be done here. We have started mass awareness programmes in the cotton producing districts of Vidarbha," said Dr CD Mayee, president of board of directors, South Asia Biotechnology Centre (SABC) and former director of CICR, Nagpur.
He said as part of the awareness exercise, pheromone traps had been put up in ginneries across Vidarbha.
Both Waghmare and Mayee said that BGII technology continues to protect cotton farmers from a host of pests, especially the American bollworm, which is more dangerous to the cotton crop despite its resistance to pink bollworm.
The state government taking cue from the experts and CICR has decided to impose an indirect ban on the longer varieties of cotton seeds and promote short- or medium-term varieties of seeds with BT technology.
"The regulation of the seed market to weed out spurious, unapproved and untested seeds will be a big deterrent to a similar pest attack," Bijay Kumar, Maharashtra government's additional chief secretary of agriculture. "Our decision not to give license for co-marketing where one brand gets sold under various names will also lead to fewer but better seed brands in the market. We will also be promoting shorter seed variety and ask farmers to avoid long variety."
While the state government seems better prepared this year to tackle another possible outbreak, the challenges will be reaching out to the farmers, enforcing stricter sale of seeds and monitoring cotton planting by farmers through the entire cycle. If one looks at recent history (pesticide poisoning), it is apparent that the government has failed to tackle this issue so far.
"There are several fly-by-night operators who are selling fake BT seeds in the state and in several areas even unapproved herbicide tolerant hybrid seeds not yet approved for cultivation are easily available," said an agriculture officer from Yavatmal. "Guiding farmers through the cotton plantation cycle is no easy task. For starters, convincing them to buy pheromone traps or ensuring they use insecticides at a certain time and do not over spray, making them plant non-BT seeds on refuge areas will require micro management and monitoring and it cannot be done just through agriculture officers."
SB Varade, irrigation and farm expert and former deputy director of Walmi (Water and Land Management Institute), Aurangabad, said unless there is an integrated plan for all the activities related to the cotton crop – involving agriculture department, agriculture universities and industrial stakeholders – to bring proper awareness among the farmers and ensure that the mandate is rigorously followed, it will be a difficult task to control the pest attack.
"The government should think of enacting a law if necessary to make certain practices mandatory for cotton farmers," he said.
It's not that the state has been taken by surprise by the resistance of pink bollworm to BT cotton. The agriculture commissionerate wrote to the government in August last year, saying that BT cotton had become susceptible to the pink bollworm for past two years.
The technology provider, Mahyco Monsanto Biotech (India) Private Limited, had pointed this out in September 2015. In an emailed statement, MMB said, "In September 2015, the Genetic Engineering Appraisal Committee was informed of high level of tolerance to Cry2Ab protein being observed in certain populations of pink bollworm owing primarily to non-adoption of recommended insect resistance management practices."
The company statement said it had asked its sub-licensee seed companies in February 2016 and March 2017 to advice farmers of the importance of following product usage guidelines by GEAC and cotton crop management guidelines issued by Central and state agriculture institutes for proper performance of BGII.
"The big picture is that with this pink bollworm threat, farmers have one more thing going against them besides non-availability of water, falling market prices, higher input costs. Whichever way you look at it, there is no easy solution for the tiller," said a senior bureaucrat.
While Maharashtra has had a successful run with BT cotton over the past decade, officials say that the trend to adopt cotton as a cash crop and often monocrop was proving to be ineffectual.
"The net income in the hands of the farmer has been reducing as BT hybrid cotton is high input intensive. And, while yield of cotton has increased for cotton farmers, the hybrid variety is not considered ideal for rain-fed areas like Vidarbha. Also, farmers have given up on their sustenance crops like jowar, wheat in the bid to grow only cotton as a monocrop, exposing themselves to ruin in case of falling global market rates or a pest attack," the official said.
On the technology side, farmers are more in a corner and dependent on BGII than ever before given the government's overall apathy, said experts.
A newer BGIII technology is nowhere on the horizon given that Monsanto has withdrawn its future technologies. The company spokesperson said this was done owing to "uncertainty in business environment around respect of intellectual property rights on patented technologies and sanctity of private contracts".
On the other hand, local varieties of cotton are unlikely to provide any real alternative to BT seeds despite occasional political statements.
"CICR had produced 20 types of local seeds a few years ago, but the government failed to support the research. Maharashtra needs two crore packets of 450 gram each of seeds every year. Do we have the capacity to produce such a huge quantity locally?" asked Vijay Jawandhia, another farm expert.
Given the limited yield from local varieties vis-a-vis BT seeds, no farmer will be willing to switch over at this stage. Out of 42 lakh hectares of cotton sown area, more than 37 lakh hectares is BT cotton.