Is the Zakir Naik case falling apart?
Hindustan Times |
, Mumbai
HT Correspondents
Mar 22, 2017 12:16 PM IST
Since it registered a case against Naik in November 2016, the NIA has seemingly failed to prove his complicity.
Controversial televangelist Zakir Naik is back in the news after a string of action against him for refusing to appear before investigating agencies, despite being called four times.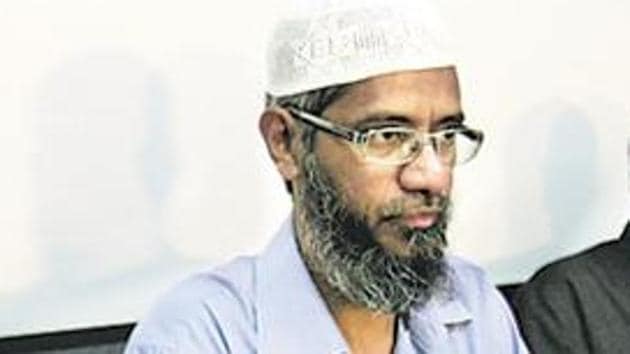 The last time there was so much focus on Naik was November 2016, when the National Investigating Agency (NIA) registered a case against him and carried out raids at 10 places in Mumbai, including at his now-banned Islamic Research Foundation (IRF) and his home at Mazagaon.
At the time, it seemed the cases against Naik, his foundation and employees would soon catch up with him. But in the months that followed, it all looked like it would fall apart.
Here's why.
Ever since the NIA registered its case last year — under the Unlawful Activities Prevention Act and the Indian Penal Code — the agency has failed to prove Naik's complicity in them.
Naik came under the security scanner, after at least one suspect in a deadly café attack in Dhaka in July last year said he was inspired by the televangelist's speeches. Naik has also been accused of influencing several youth to join the Islamic State.
In February 2017, NIA did not file it charge sheet, within the stipulated 180-day period, against Mohammed Haneef, the preacher from Kerala who was accused of radicalising youth from that state who are believed to have joined the Islamic State.
Haneef was in touch with IRF's guest relationship manager, Arshi Qureshi who was arrested in 2016.
Rizwan Khan, another accused in radicalisation case, got bail this month because the agency missed its charge sheet deadline again. The only person the NIA has filed a charge sheet against is Qureshi.
And then comes the issue of getting Naik to present himself to the investigation agencies. At last cont, NIA sent a fourth summons to him to be present for questioning on March 30. But Naik, through his lawyers, said he was willing to be questioned before the NIA and the Enforcement Directorate (ED) through video-conferencing. This is not acceptable to either of the agencies.
After months of to-and-fro, the ED has now taken on the task of tightening the noose around Naik. On Monday, it attached properties of IRF worth Rs18.37 crore. This includes mutual funds valued at Rs9.41 crore, a godown worth Rs68 lakh belonging to Harmony Media Pvt Ltd and a school building worth Rs7.05 crore belonging to Islamic Education Trust in Chennai. Five bank accounts of the IRF, with a balance of Rs1.23 crore, were frozen provisionally.
"Investigations revealed the proceeds generated through the provocative speeches Naik made have been either routed or transferred and later utilised other purposes," said an ED officer, not wishing to be named.
This year, Naik's confidante Aamir Gazdar, a marble trader from south Mumbai, was arrested. Gazdar is in judicial custody and the central agency has accused him of acquiring and disposing of cash.
NIA's action came after the Mumbai police submitted a report against Naik and IRF. The report said Naik "justifies terrorism" and "justifies violence in the name of jihad". The report says, "Naik's opinion about other religions is extreme... and create prejudice in the mind of people by telling how other religions' holy books and its beliefs are wrong". His statements are against religious harmony and peaceful coexistence, the report said.
In one damning sentence, the report states: "Once his audience gets attracted to Naik, he justifies terrorism and he fans religious sentiments of youth with the help of his oratory skills".
'Although Naik states that Islam condemns killing of innocent people, he justifies the violence in the name of jihad,' it says. It recommended banning Naik's speeches in Maharashtra and that the United Kingdom's banning of Naik should serve as a precedent.
More properties of Zakir Naik likely to be attached
After attaching property worth Rs18.37 crore from televangelist Zakir Naik's Islamic Research Foundation (IRF), the Enforcement Directorate is likely to further tighten the noose by issuing a non-bailable warrant (NBW) and attaching more properties.
The action comes after Naik failed to appear before the agency despite being summoned four times. The ED had first issued summons to Naik in January, after which summons were issued at regular intervals. Sources in the agency said Naik's properties aborad were also under scanner.
"Naik has failed to appear in person and certain questions and queries can only be answered by him. His presence is necessary," said an ED officer privy to the investigation.
The legal proceedings for his NBW are also likely to take place soon. The central agency may approach a special Prevention of Money Laundering court, apprising it of Naik not showing up. While Naik proposed to be available through video-conference or a questionnaire, the agency refused, saying "this would set a wrong precedent if approved."
The ED has alleged Naik established dummy companies across the country and abroad "diversion of funds." The probe gathered momentum with the first arrest in the case, of Aamir Gazdar close Naik confidante.
"Gazdar played a pivotal role in acquiring and disposing of cash. Dummy companies were used to camouflage the diversion of funds Naik received though illegal activities of provocative speeches," the ED has alleged.
The ED said Gazdar is the director of at least six companies Naik set up. Two of these are in England and four others are in Mumbai. The financial transactions between Gazdar and Naik are also under ED lens. The ED alleged Gazdar was filing I-T returns in the name of his wife and children. Gazdar, however, admitted they don't have any source of income, which raises suspicion that he was trying to layer the proceeds of crime into the system.
The ED also revealed videos of provocative speeches were produced and exported to Dubai for telecasting. "Huge amount of cash transactions without leaving any trail of its origin or utilization thereof, were conducted by Naik through Gazdar," the agency has said.
The agency has also recorded statements of Naik's siblings — his sister Nailah Noorani and brother Mohammad Abdul Karim Naik. They have claimed ignorance.
Cases against Zakir Naik and his IRF employees
Nagpada police station in Mumbai: The case was registered under sections 10, 13 and 38 of the Unlawful Activities (Prevention) Act (UAPA) against Arshi Qureshi, an employee of IRF and others on August 6, 2016. The case was filed by Abdul Majeed, father of Ashfaq Majeed, one of the missing youth from Kerala, who was believed to have joined Islamic State. In the complaint, Abdul alleged that Arshi Qureshi of IRF was responsible for his son's radicalisation
Status: Charge sheet filed
Palrivattam police station in Kerala: The police registered a case under sections 153 A and 34 of the IPC , and section 13 of the UAPA against Arshi Qureshi. The Kerala police arrested him in July, 2016 for allegedly promoting hatred and ill-will between different religious communities and forcible conversions of Kerala youth
Status: Charge sheet filed
Sawantwadi police station in Sindhudurg, Maharashtra: Naik was booked for allegedly making derogatory statements against Hindu gods. A case was registered under sections 117, 153 A, 295 A, 298 and 34 of the IPC
Status: He was charge-sheeted in 2014
Vengurla police station in Sindhudurg: Naik was booked under under sections 153 A, 295 A and 298 of the IPC for allegedly making objectionable comments against Hindu gods
Status: He was charge-sheeted in 2014
Kurla police station in Mumbai: The cops registered a case against Naik under sections 153 A, 295 A, 505(2) of the IPC and 66 A of the Information Technology Act, 2002. He allegedly made derogatory remarks against Hindu gods.
Who is Zakir Naik?
Naik's speeches were aired mainly on English TV channels and Peace TV, which he started in 2006
He launched Peace TV Urdu in 2009 and Peace TV Bangla in April 2011, and planned to have the channel in 10 major languages across the world
His speeches allegedly influenced a number of terrorists, including at least one of the six attackers who killed 20 people in an upscale café in Bangladesh capital Dhaka
Darul Uloom Deoband, the Islamic seminary in UP, issued a fatwa against Naik for his speeches
Preacher's petition still pending in SC
Three years on, a petition filed by Naik is still pending before the Supreme Court as only one of the five states, Odisha, has replied to the court's notices issued to them on May 5, 2013
The court issued notices to five states — Maharashtra, Gujarat, Goa, Karnataka and Odisha — to reply within eight weeks, after he approached the court seeking merging of all FIRs and complainants against him so that a single investigation could take place
As many as seven FIRs and 28 complainants have been lodged against Naik across the country
The FIRs have been registered against Naik in Maharashtra, Gujarat, Goa, Karnataka and Odisha in 2012 for his objectionable Facebook post
In his Facebook post, Naik had raised doubts over the worship of Lord Ganesha by Hindus
READ
Zakir Naik didn't force people to convert to Islam: Brother to ED
ED attaches assets worth Rs 18 cr of Zakir Naik's Islamic Research Foundation