Bricks and bats vs AK-47: Mumbai cop recalls 'miracle' of capturing 26/11 attacker Kasab
Police inspector Sanjay Govilkar recalls constable Ombale's sacrifice and how they nabbed the terrorist near Girgaum Chowpatty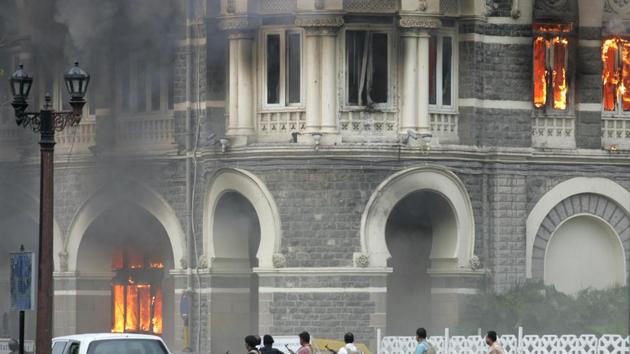 Updated on Nov 21, 2018 08:19 AM IST
During the 60-hour long terror attacks that began on November 26, 2008, the Mumbai Police secured a rare prize: Lashkar-e-Taiba operative Ajmal Amir Kasab, injured but alive. And it was made possible by a humble nakabandi and the valour of a few unarmed policemen.
One of them was assistant police inspector Sanjay Govilkar. Govilkar, 50, was part of the police team that was awarded gallantry medals by the President of India for their bravery that night. At present, he is posted as an inspector in the Economic Offences Wing (EOW) of the Mumbai Police. Ten years ago, he was new to the DB Marg police station, having been posted there five days before the terror attacks.
On the night of November 26, Govilkar was at home in the police quarters in Worli, watching the news on television when alerts appeared about bullets being fired in Colaba. In no time, Govilkar was on his bike, making his way to his station. He told his wife he might be late. She would next see him four days later.
At the police station, he was stationed with the team that was tasked with organising a nakabandi, or security check, near Girgaum Chowpatty on Marine Drive. "I joined the team of 13 from our police station who had already put up double barricade on the road," he says. From the walkie-talkie came updates of multiple locations in south Mumbai being under attack. "Our men were fighting terrorists at several places," recalled Govilkar. "We could hear the faint sound of blasts coming intermittently from distant places. We were all shocked. What was happening to my city?"
Around 12.15am, the wireless ordered Govilkar and his team to intercept a Skoda headed to Walkeshwar. "The car showed up by 00.30 am. It stopped around 50 feet away from the barricade," Govilkar said. When the police team approached the car, it swerved away only to ram into the concrete dividers on the other side.
The police team split into two, to surround the car. Seconds later, the driver of the car opened fire. The police retaliated and a few bullets found the driver, later revealed as Ismail Khan, the terrorists' group leader. On the other side, the team found the door on the passenger side open.
"The man on the seat had raised his hands and had a foot out. We thought he was trying to surrender," Govilkar recalled. This was Kasab, who had been shot in his left hand and was trying to buy time. "In split second, he grabbed an AK-47 hidden under his feet." Govilkar and others were not prepared for this. As Kasab pressed the trigger, assistant sub inspector Tukaram Ombale grabbed the barrel of the gun. "Ombale was hit by a volley of 6-7 bullets, one bullet grazed past my waist," said Govilkar. When Kasab tried to load another magazine, the policemen, armed with only sticks and batons, attacked him. "With sticks, batons and a couple of small arms, we fought highly-trained and heavily-armed terrorists, killing one and catching the other alive. Maybe God was on our side," said Govilkar, recalling that night.
By the time armed officers reached Govilkar and his colleagues, the unarmed policemen had managed to disarm Kasab. "It was tough for our officers to restrain themselves from shooting Kasab. We struck to our ethics which forbid opening fire at an unarmed person," said Govilkar. A critically-wounded Ombale and Govilkar were rushed to Harkisandas Hospital. Ombale succumbed to his injuries and Govilkar was discharged four days later. Khan and Kasab were taken to Nair Hospital where Khan was pronounced dead.
Govilkar would see Kasab again during an identification parade and later during the trial. "He deserved nothing but death," said Govilkar of Kasab. "Perhaps it was God's wish that the supreme sacrifice of [Tukaram] Ombale, Shashank Shinde, [Hemant] Karkare sahab, [Ashok] Kamte Sahab and [Vijay] Salaskar Sahab should not go waste. Otherwise, catching a heavily-armed fidayeen [guerrilla fighter] alive was nothing short of a miracle."
Topics
Close Story