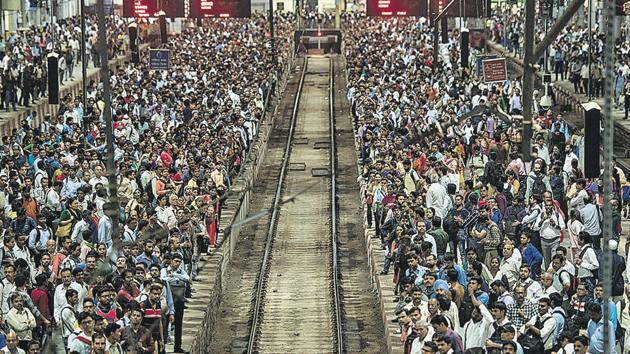 Lakhs of Mumbai commuters hassled as motormen resort to protests over workload
The situation remained bad till late evening, forcing most to travel in packed trains
Hindustan Times | By HT Correspondents
, Mumbai
PUBLISHED ON AUG 11, 2018 01:14 AM IST
A fight between the central railway (CR) and its motormen turned into a nightmare for the line's 40 lakh commuters on Friday.
Demanding the vacant 227 posts be filled, CR motormen, backed by the Central Railway Mazdoor Sangh (CRMS), refused to work overtime from Friday morning. The result: more than 100 local train services on the main, harbour and trans-harbour lines were cancelled after 11am, while those functional ran at a delay of 20 minutes through the day. The situation remained bad till late evening, forcing most to travel in packed trains, opt for cabs or remain stuck in traffic snarls for hours.
Worst hit in the morning was Thane, where the protest, coupled with filling of potholes, breakdown of three vehicles, repairs on Mumbra bypass road and barricading for Metro-4, led to a massive traffic jam.
CR operates 1,600 services a day. The trigger for the protest was the action against a motorman, Rameshchandra Sailani, who overshot the red light (signal passing at danger) in January. On July 12, Sailani was given compulsory retirement as penalty. The motormen felt the action was unfair as overshooting is a result of oversight because the motorman works extra hours. They also demanded such cases be considered individually, instead of fixing blanket punishments.
While morning peak-hour travellers escaped, evening saw stampede-like situation at Dadar and Thane stations. "A 20-minute journey between Currey Road and CSMT took 60 minutes. The local trains were crawling," said Kavita Deshpande, Currey Road resident.
Angry that the Panchvati Express was being halted at Thane, angry commuters surrounded the station master's office. "Commuters wanted the train to be halted at Thane," said a senior railway official.
Eventually, CR allowed passengers to travel on long-distance trains, with special halts at Kalyan, Kurla, Thane and Ghatkopar. This too, most claimed, didn't help matters much.
By evening, CR authorities promised a solution. "The local train services will start operating normally within some time. It is an internal matter and has been concluded," said SK Jain, divisional railway manager, central railway, in the evening.
Although the union leaders refused to come to record, a statement from CRMS said: "After marathon discussions with the central railway officials, it has been assured that the vacancies for motormen would be filled on an urgent basis, with 48 being filled immediately. It was also assured that the harsh punishment of removal from service and compulsory retirement imposed on motormen working under such compelling conditions would be reviewed considering the factors."
Meanwhile, passengers' associations termed the incident unfortunate. "This is completely unfair and should not have happened. The local train services are the lifeline of the city and what happened on Friday was wrong. Local train services impact the entire city and people have started to disrupt them to get their demands met. The chief minister and the railway ministry should intervene," said Subhash Gupta, president, Rail Yatri Parishad.
Close