Lalita to Lalit: Beed constable discharged from Mumbai hospital
Lalita Salve had been admitted to St George's hospital on May 22 and underwent genital reconstructive surgery.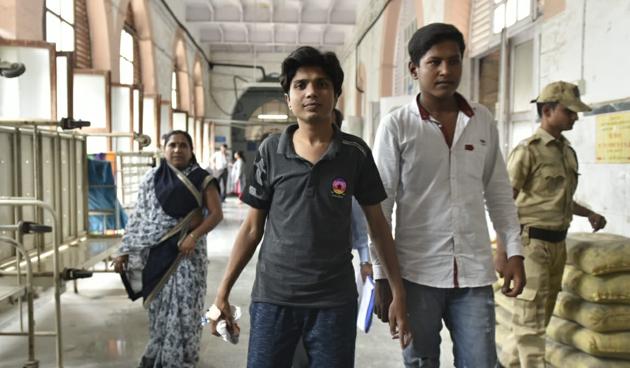 Updated on Jun 12, 2018 03:19 PM IST
Hindustan Times |
, Mumbai
Aayushi Pratap
Lalita Salve, a constable from Beed who underwent the first round of genital reconstructive surgery, was discharged on Tuesday.
Salve was admitted to St George's hospital on May 22. He has been discharged from hospital, confirmed Dr Madhukar Gaikwad, medical superintendent at the hospital. "The final paper work is done."
Salve will travel to Beed with his parents, who have been in the city since the day of the surgery.
Dr Rajat Kapoor, who performed the surgery, said: "We will call him for after six months so that we can create the full urethra," he said.
Though Salve could have been discharged two days ago, doctors said the process got delayed because social workers at the hospital were arranging for funds to pay the bill. "As Salve was kept in a VIP room, a bill of around Rs12,000 needs to be paid. We wanted to perform the surgery for free," Kapoor said.
Brought up as a woman since childhood, Salve took a genetic test — karyotyping — that established his gender identity as male. Salve had move Bombay high court in November 2017, seeking a month's leave to undergo 'gender reassignment surgery'. A panel of doctors was formed at Sir JJ hospital to evaluate the case. "Since the cop's genitals resembled that of a female, the family may have got confused," said a doctor, who was part of the panel.
During the first round of the three-hour surgery, performed on May 25, doctors at state-run St George's Hospital initiated the process to elongate Salve's urethra by creating a tissue conduit. It will take nearly a year and a half to complete all surgeries, said Dr Madhukar Gaikwad, medical superintendent at the hospital.
Later, a hair transplant procedure will be conducted to give Salve a moustache and a beard. "We will ask Salve what shape he likes, depending on which we will do the transplant," Kapoor said.
Close Story