Laser attacks on planes rise at Mumbai airport; 24 reported in nine months this year
Updated on Nov 18, 2017 02:40 PM IST
Pilots also reported three drones and two sky lanterns this year at the airport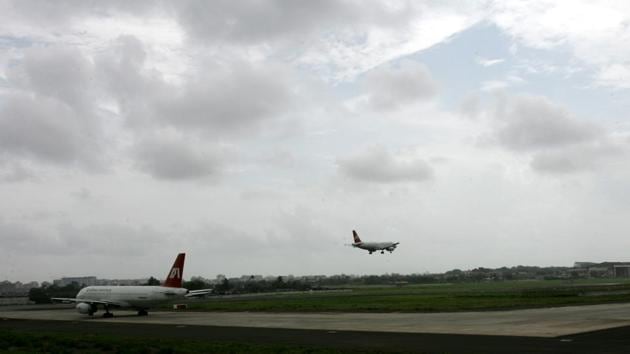 Hindustan Times |
, Mumbai
Neha LM Tripathi
Twenty-four times till September this year, pilots, who flew aircraft from or to Mumbai, have become targets to laser attacks. This is the highest number of such attacks the Mumbai airport has seen in just a period of nine months in the past three years. While 15 cases of laser attacks were reported in 2016, the previous year saw 24 of them.
Pilots have also reported three drones and two sky lanterns this year at the airport. Aviation experts said laser lights, if flashed at aircraft taking off or landing, pose a danger as it temporarily blinds the pilot. The lanterns are equally dangerous. Mumbai's airport, which is the country's second busiest airport, handles 925 flights a day. An airport official said: "Paper sky lanterns can be dangerous as they are lit and can be hazardous to the aircraft if they come in contact with it. Increasing number of laser light cases are a matter of concern for aircraft safety."
Pilots report cases of laser attacks and lanterns to the Air Traffic Control (ATC), which conveys the information to the airport operator, who reports the incident to the local police. However, policemen said there is no specific law or government notification to deal with such cases.
A police official on condition of anonymity said, "In such complaints, we first find out the reason the light was flashed. If the laser light was coming from a wedding ceremony or any other function, then as a preventive action, we alert concerned people and sensitise them about its dangerous effects on aircraft. However, nothing can be done legally as there is no law under which we can produce anyone in court."
Mumbai police spokesperson Deepak Devraj said the incidents are investigated under general criminal laws. "We register cases against the offender under CrPC section 144 (power to issue order in urgent cases of nuisance of apprehended danger) and if his involvement is found in our investigation then a case is registered under IPC section 188 (Disobedience to order duly promulgated by public servant)," said Devraj.
While the number of drone sightings at the airport this year were three till September, 2016 saw two of them. There were also reports of aerial fire crackers entering the airport premises.
Close Story
Personalise your news feed. Follow trending topics