Leopard killed in Vasai, 10th to be run over since 2004
The leopard's body was brought to Sanjay Gandhi National Park (SGNP), Borivli for a post-mortem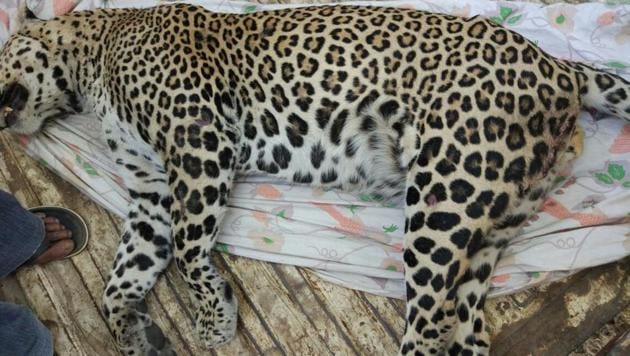 Updated on Feb 26, 2017 12:21 AM IST
Hindustan Times | By Badri Chatterjee and Ram Parmar
, Mumbai
A six-year-old male leopard was run over by a speeding vehicle near Sativali, Vasai, on the Mumbai-Ahmedabad highway on Friday night. This is the tenth leopard that has been killed by a vehicle, since 2004, raising questions on what measures the National Highways Authority of India (NHAI) and other agencies should undertake to prevent such deaths.
According to the Vasai forest range, the leopard was spotted moving from the eastern part of the Tungareshwar reserved forest area to the west around 10.30pm on Friday night. It was hit by the vehicle while crossing the highway.
"The animal was still breathing when we found it, but was in excruciating pain. While transporting the leopard to the nearest veterinary hospital, it succumbed to its injuries," said Dilip Tonde, range forest officer, Vasai.
The leopard's body was brought to Sanjay Gandhi National Park (SGNP), Borivli for a post-mortem (PM).
"The PM report revealed that the impact broke four ribs on the right side of the animal's body and one on the left. Bones in the chest cavity and stomach were completely broken, which caused a major internal haemorrhage, killing the animal," added Tonde.
A case was registered under section 9 (prohibition of hunting) of the Wildlife Protection Act,1972 against unidentified people. The forest department is currently examining CCTV camera footage to spot the accused.
Experts said there was a need for underpasses and overpasses at wildlife corridors running through highways. "We have written to the forest department several times, seeking that funds allocated for compensatory afforestation (Campa funds of about Rs1500 crore) could be used to construct these passes for vehicles so animals can pass through safely," said Vidya Athreya, wildlife biologist.
"The forest department needs to carry out a detailed survey and submit it to the NHAI to identify areas where these passes need to be constructed."
"If wildlife conservation was prioritised, such overpasses would have been considered while such highways or railway tracks around reserved forests were being planned. Constructing overpasses for vehicles is feasible and will help animals cross underneath," said Anand Pendharkar, environmentalist.
NHAI officials said Maharashtra does not have enough dense forests to merit such passes.
"We have constructed underpasses and overpasses at Assam, which has a thick forest cover. However, we do not have plans to construct similar projects along highways in Maharashtra as it does not have dense forests," said a senior official from NHAI, New Delhi. According to the forest survey of India, Maharashtra has a forest cover of 50,632 sq km, of which 8,720 sq km is very dense, while 20,770 sq km is moderately dense.
Officials from the forest department said they would take up the matter with the NHAI. "From March onwards, state government bodies such as the Maharashtra State Road Development Corporation, will meet at regular intervals to discuss the need for such passes. We will request NHAI to implement our requests," said Sunil Limaye, chief conservator of forest, Thane territorial.
The leopard's death is the third such incident within four months in the state.
A six-year-old male leopard died after being hit by an unidentified vehicle on November 2 near Ghoti toll-naka, 140km from Mumbai on the Mumbai-Nasik highway.
On January 26, a four-year-old female leopard was killed in a road accident along the Pune-Nashik highway.
Underpasses, coupled with fences and barricades, have proved effective in reducing wildlife- vehicle collisions. However, the location, type, and dimensions of wildlife crossing structures must be carefully planned with regard to the species and surrounding landscape. IIT-B could be approached to assist in designing such underpasses and overbridges
(Source: Mumbaikars for SGNP report to the forest dept 2011-12)
Read
Wireless robots to spot leopards in Maharashtra
SGNP officials: Leopard, tiger and lion enclosures to be revamped
Close Story