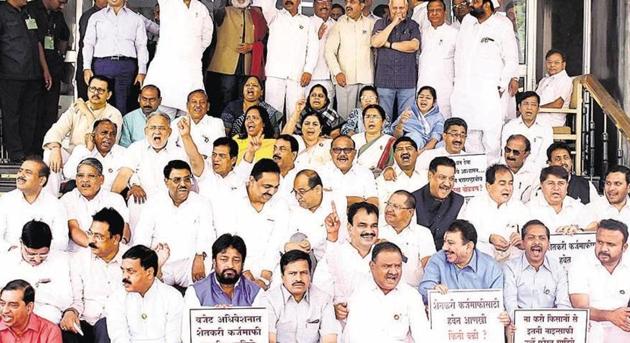 Maha Opposition demands special session to discuss farmers' crisis, loan waiver
Leaders from Congress, NCP, Samajwadi Party, Peasants and Workers Party, Republican Party (Kawade) and United Janata Dal
UPDATED ON MAY 18, 2017 11:30 PM IST
To put pressure on the Devendra Fadnavis-led BJP government to waive farm loans, Opposition parties in Maharashtra have demanded a special session of the state legislature to discuss farmers' problems in detail.
The leaders will meet Governor Ch Vidyasagar Rao , who is also the constitutional head of the Maharashtra government, on Tuesday and request him for a special session.
The delegation will comprise leaders from six prominent opposition parties — the Congress, NCP, Samajwadi Party (SP), Peasants and Workers Party (PWP), Republican Party (Kawade) and United Janata Dal – who have joined hands to take on the Fadnavis government over loan waiver.
"Farmers are facing drought for the past four years. The agrarian crisis and falling prices of agricultural produce have hit them. They are not in a position to repay the loans. In distress, they are committing suicide. We need to waive loans to bring them out of the situation," said Radhakrishna Vikhe-Patil, leader of Opposition in the state Assembly.
The opposition leaders are also ready to kick off the fourth leg of the Sangharsh Yatra to intensify the demand. They intend to cover most districts in Konkan districts during the three-day protest march starting May 11.
The Opposition's interaction with farmers and families affected by suicides through Sangharsh Yatra seems to have alerted the ruling BJP, which has also decided to counter it by announcing Samvad Yatra to reach out to farmers and telll them about the government's efforts to solve their problems.
In the last three phases of the protest march, the Opposition covered most districts in Vidarbha, Marathwada, north and west Maharashtra.
After the Uttar Pradesh government waived farm loans, the Opposition mounted pressure on the state to grant Rs30,500-crore loan waiver for farmers in Maharashtra.
Close