Maharashtra approves bank guarantees, loan sanctions for four Metro projects
Updated on Jul 24, 2017 01:33 AM IST
The cabinet also allowed the use of a plot reserved for playground to build an underground station for Metro 3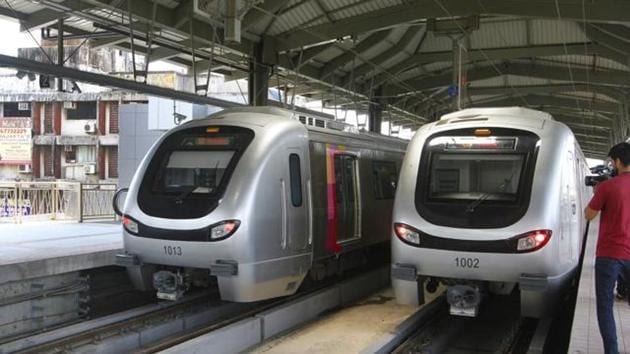 In a boost to the Mumbai Metro, the Maharashtra government on Sunday approved bank guarantees and loan-related sanctions for four projects — Metro 2A ( Dahisar to DN Nagar), Metro 2B ( DN Nagar-Bandra-Mankhurd), Metro 4 (Wadala Ghatkopar Mulund Kasaravadavali) and Metro 7 covering (Dahisar East-Andheri East). The cabinet also allowed the use of a plot reserved for playground to build an underground station for Metro 3.
These decisions were cleared in the cabinet meeting held on Sunday, on the eve of the monsoon session of the Maharashtra legislature.The state cabinet approved bank guarantee for Metro 4 being funded by Asian Infrastructure Investment Bank. It has further decided to provide a debt sustainability certificate (DSC) to three other Metro projects — Metro 2A, 2B and 7 being funded by the Asian Development Bank (ADB).
The cost of Metro 4 is Rs14,549 crore, while the cost of the rest of the three projects is Rs6,410 crore, Rs10,986 crore and Rs6,208 crore respectively. The DSC is mandatory to sanction externally aided projects that are to get funding from multilateral agencies like the ADB and World Bank.
The bank guarantees and the debt sustainability certificates from the state government to the Metro projects will help formalise loan agreements for four of the Metro corridors with international funding agencies. Only after the loan agreements are inked, one can say the financing of these projects is complete. This will also ensure that work on the Metro projects is not held up for want of money.
"We plan to complete Metro 7 and Metro 2A by the 2019 Assembly elections. While civil work is being funded by the MMRDA, financing for the rolling stock, signaling systems etc is possible only through the loan. So formalising these loan agreements is important for us,'' said a senior state government official.
For the fully underground Metro 3 project, a 554-sqm plot located at Tardeo currently reserved as a playground was required to develop an underground 'Grant Road' station.
As the plot was reserved for a playground, it required the government's approval to build an underground station.
The cabinet approved the proposal speeding up work on the Metro 3 corridor as well. This corridor is likely to be completed by 2020-21.
Metro-3 is a 33.5-km underground corridor that will link Colaba-Bandra-SEEPZ in Andheri (East). The length of the corridor is marked with 27 key stations and except one all its stations will be underground. The cost of the project is Rs23,136 crore.
Read
Mumbai metro-3: Shiv Sena rejects BJP's proposal to give 4,000 sqm plot at Andheri
Close Story
Personalise your news feed. Follow trending topics