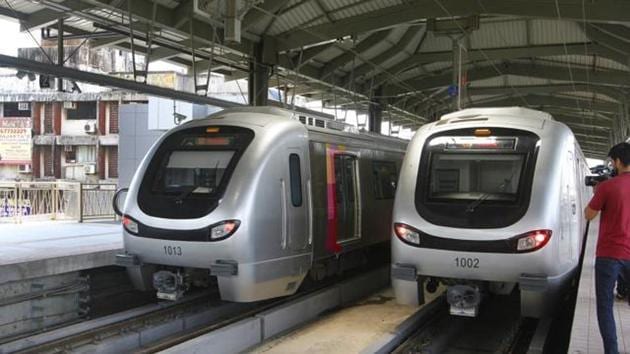 Mumbai metro-3: Shiv Sena rejects BJP's proposal to give 4,000 sqm plot at Andheri
Last month, the Sena rejected a proposal to change the land use of 33 hectares at Aarey Milk Colony for a Metro-3 car shed
PUBLISHED ON JUL 21, 2017 09:23 AM IST
For a second meeting in a row, the Shiv Sena-governed Brihanmumbai Municipal Corporation (BMC) rejected a metro-related proposal. On Thursday, the improvements committee rejected a proposal to hand over a 4,000 square-metre plot at Andheri to the Mumbai Metro Rail Corporation Limited (MMRCL) to build a sub-station for the Metro-III project.
Last month, the Sena rejected a proposal to change the land use of 33 hectares at Aarey Milk Colony for a Metro-3 car shed. Both pr oposals had the Bharatiya Janata Party's (BJP) backing.
Anant Nar, Sena corporator and improvements committee chairman, said, "How can a plot that has been reserved for sewage treatment be handed over?"
Sena corporators also said that metro construction was becoming a nuisance to Mumbaites. Jyoti Alvani, a BJP corporator, said, "We cannot reject proposals that are essential to Mumbai's development. If there are local problems, it can be addressed by corporators on a case-to-case basis."
Sena has been objecting to metro-related proposals more so after its fallout with former ally BJP in the 2017 BMC elections.
On Thursday, Sena also deferred its decision on handing over 15 plots to MMRCL (11 temporarily and 4 permanently) on the pretext on conducting a visit to the spots. Ranging between 150 square meters to more than 6,000 square meters, the plots have been listed for various activities like depots, space for temporary cabins, ventilation shafts and temporary accommodation.
Nar said, "We are not going to pass this proposal also. There are reservations on these plots that need to be developed. If it is given away, then it is an injustice to citizens."
Read
Shiv Sena rejects Maharashtra government's proposal for Metro 3 car shed at Aarey Colony
Close