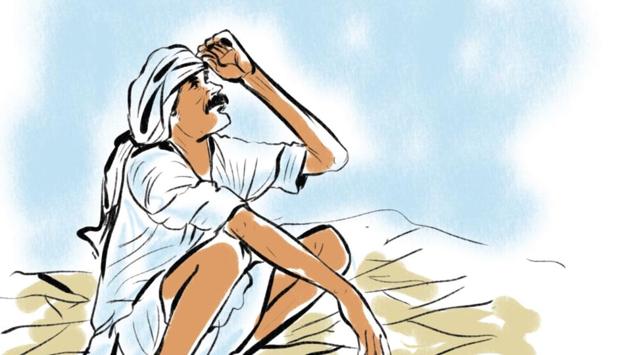 Maharashtra farmer complains against IMD for 'wrong' rain forecast
Mumbai city news: He accused the IMD of cheating farmers and alleged connivance between IMD officials and seed and fertiliser companies for a 'faulty' forecast
Hindustan Times | By Faisal Malik and Badri Chatterjee
, Mumbai
PUBLISHED ON JUL 15, 2017 09:43 AM IST
Annoyed with inaccurate weather predictions, a farmer from Beed district has filed a complaint against Colaba and Pune weather stations of the India Meteorological Department (IMD) for their 'misleading' rain forecast.
This is the first time such a complaint has been filed against IMD.
In his complaint with Dindrud police of Beed district in Marathwada, Gangabheeshan Thavre, a farmer, said he undertook sowing operations based on the IMD forecast, but after a brief spell, there has been no rain, which has caused him huge financial losses.
He accused the IMD of cheating farmers and alleged connivance between IMD officials and seed and fertiliser companies for a 'faulty' forecast. The Dindrud police said they will verify the claims before registering a criminal case. IMD officials, however, said they have taken the matter to the highest level.
According to the complaint letter filed with the Dindrud police, Thavre owns rain-fed farm land at Anandgaon, Beed district, and completed sowing in June on the basis of IMD forecast in which the weather forecasting agency had predicted heavy rains during June and July.
"Based on the wrong forecast, I along with all the other farmers in my village completed sowing by spending lakhs on seeds, fertiliser, spray pumps etc. But there was no rain and our sowing has been spoiled causing us huge financial losses," Thavre said in his letter.
RS Sanap, senior police inspector of Dindrud police said he can't register an FIR based on such a complaint the IMD issues a forecast. "We have to verify the charges and consider its legal point of view as well before filing a case. IMD is a forecast agency and going by Thavre's argument, lots of cases need to be registered against it," Sanap told HT.
Officials from the Pune weather bureau in-charge of issuing predictions to farmers in the state said they had been made aware about the complaint. "Currently, all our predictions over the past three months are being analysed by our office. The issue has been escalated to our head office in New Delhi. We will issue a release once there is clarity on what happened with the prediction," said a senior official from the meteorological services for agriculture in India under IMD.
The weather bureau in New Delhi said they will respond to the allegations once they are informed about it. "As of now, we are not aware about these allegations. However, when the issue comes to us, we will respond appropriately as per the professional functioning of the institution. We need to first understand what this grievance is and whether we are responsible for it or not. We are not a commercial agency and we work for the public good. Every year, we make efforts to improve our forecasting abilities and deliver better services," said Dr KJ Ramesh, director, IMD. "On the basis of our predictions from last year to this year, the heat wave deaths across the country have reduced significantly," he said.
Close