Maharashtra government loses Rs200 crore a year to slums in Mahul-Sewri mudflats
The 10km-long and 3km-wide Mahul-Sewri mudflats are protected and demarcated as an important biodiversity area (IBA) in the city since 2004.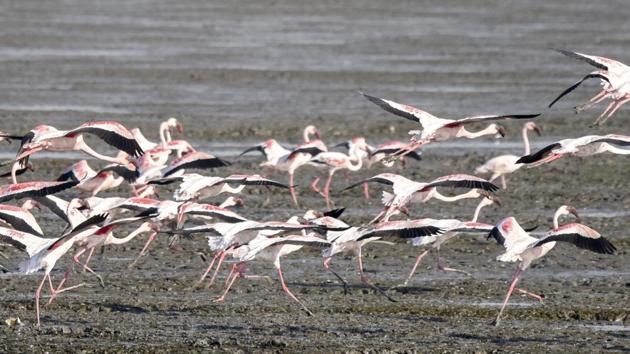 Updated on Jul 31, 2017 01:26 AM IST
The state is potentially losing more than Rs200 crore annually in terms of tourism because of 60,000 slums that have illegally encroached upon 173 hectares of the 500-hectare Mahul-Sewri mudflats and wetlands, a study found.
The study — Effect of Water Pollution and Encroachment on Tourism Potential of Eco Sensitive Area: Case of Mahul Creek — also found high levels of water pollution owing to untreated industrial waste discharged directly into the creek, which has led to a 60% decline in fish species.
Carried out by urban planner and architect Shalaka Lalwani, under the aegis of Rachana Sansad's Institute of Urban and Regional Planning, Prabhadevi, the study identified a loss of Rs206.4 crore annually for the state in terms of tourism potential and ecosystem services owing to water pollution and slum encroachment at the creek.
"An international study released in 2014 calculated the economic value of Mumbai's entire wetland ecosystem at $2,458.28 million (approximately Rs16,000 crore). Based on this and the 1991 DP for the city, we calculated the value of the 500-hectare Sewri-Mahul mudflats at Rs596 crore. The encroachments across 173 hectares leads to an potential tourism loss of Rs206.4 crore," says Lalwani, who has been working in the field of mangrove conservation for the past 15 years and also designed the boardwalk at the Coastal Marine Biodiversity Centre at Airoli.
The 10km-long and 3km-wide Mahul-Sewri mudflats are protected and demarcated as an important biodiversity area (IBA) in the city since 2004. According to the Bombay Natural History Society (BNHS), they are home to 149 species of migratory birds, including 40,000 flamingos, 10 species of fish (only four remain according to the study) and the wetland cover comprises of 10 species of mangroves, 13 mangrove-associated species and 53 seed-bearing plant species.
"Unregulated human activity in slums, sewage and garbage dumping is causing severe deterioration of water quality of Mahul creek, which is one of the 10 unique IBAs in India," said Lalwani. "Apart from industrial waste, we observed various areas of the creek having a thick layer of oil that has led to the level of dissolved oxygen (amount of oxygen present in water for the survival of marine life) to fall to zero."
Read: Biodiverse Mumbai: Study finds 150 species of birds at Mahul-Sewri
In February last year, the Union environment ministry gave its nod for the construction of the 22-km Mumbai-Trans-Harbour Link (MTHL) sea bridge aimed at connecting Sewri (Mumbai) to Nhava (Navi Mumbai).
Lalwani carried out biodiversity mapping on the existing land use to ascertain home of various species and their habitat boundaries. "Dangerous levels of pollutants in the water have adversely impacted the survival of flamingoes, migratory birds and aquatic life in terms of their breeding diversity. We observed and were told by fishermen that flamingos have been crash landing and dying after consuming pollutants in the water," said Lalwani.
Meanwhile, officials from the state mangrove cell said 150 of 500 hectare area are protected mangrove forests and the remaining falls under the jurisdiction of the revenue department. "We have already issued orders for the removal of around 600 slum encroachments from this area and it will be done once the monsoon season is over," said Makarand Ghodke, assistant conservator of forest, state mangrove cell. "The remaining needs to be checked by the civic body under the Maharashtra Regional Town Planning Act."
As a means of restoring the wetland, Lalwani appealed for an intervention through state policy and immediate action on ground. "There is a need to restrict and regulate human access to this area after removing the 60,000 shanties. Also, our study proposes that three edges of this 500 ha patch should have – a protected tourism spot, a conservation spot for research and a cultural heritage spot – to safeguard the entire wetland from all sides," she said.
AUTHORITIES SPEAK
"We will examine the issue and direct the mangrove cell, revenue department and the civic body to submit separate reports after detailed surveys of the area. The illegal encroachers need to be rehabilitated, pushed out of the wetlands on an urgent basis and mangroves need to be restored. Further, the state pollution control board will be asked to check water quality and ensure that the biodiversity of the area is protected since it is an IBA," said Satish Gavai, additional chief secretary, state environment department.
Close Story