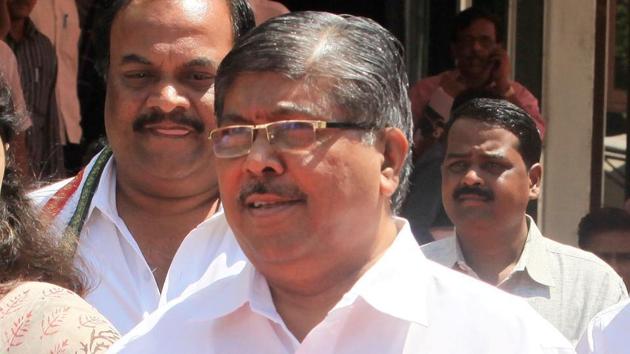 Maharashtra revenue minister hints NCP could be behind agitations
Chandrakant Patil says the state government has credible intelligence inputs suggesting the involvement of certain powerful elements in supporting the Maratha outfits
PUBLISHED ON MAY 05, 2018 12:18 AM IST
Is the Opposition, especially the Nationalist Congress Party (NCP), playing spoilsport for the Fadnavis government? A group of senior ministers in the state government feels that a majority of the big agitations organised against it, from the farmers' protest to the Maratha silent marches, have the hand of NCP behind them and such agitations are only going to increase ahead of the Lok Sabha and assembly elections.
Indicating an NCP hand behind the protests, without naming the party or the politician, revenue minister and senior Bharatiya Janata Party (BJP) leader Chandrakant Patil on Friday said there are some powerful leaders who want to create disturbance in the state ahead of the elections. Patil said there are "mighty people" behind the Maratha outfits, who have been funding and supporting the activities by these groups. Patil said 99% of the Maratha community people are happy with the measures taken by the government, and resentment can be found among only the 1% of people who have been incited by leaders with vested interests. Patil said this at a press conference a day after Maratha organisations met the government and threatened to relaunch their agitation, stating that their demands had not been met by the government.
Patil said the government has credible intelligence inputs suggesting the involvement of certain powerful elements in supporting the Maratha outfits. "We have specific information about who is supporting these conveners of the protest, how these outfits are facilitated to hold meetings at YB Chavan Centre (of which NCP chief Sharad Pawar is president) at Nariman Point," he said. The minister said the government will take all steps to ensure law and order is maintained in the state.
NCP ridiculed Patil's allegations, claiming that such statements only show the helpless of the government. "If Patil said 99% of the Maratha community is happy with the measures taken by the government, then why are they worried about the 1% who are against them?" asked Nawab Malik, vice-president, NCP. "The government has not been able to manage the discontent against them and this statement of blaming others is an indicator of their helplessness".
Another minister, who did not want to be named, said, "We have been admitting every demand made by the representatives of the Maratha protesters, despite which the outfits keep threatening the government with violent agitations. Even when there is no reaction from the community, the organisers of the silent marches keep raking up the issue by claiming that the demands are not fulfilled. It's not only the Maratha community, we firmly believe that the leaders had instigated the farmers during their long march in March and the ongoing agitation for fair prices for milk." The BJP government is worried that the Dhangar and Lingayat communities will also rake up the reservation issue as the elections get closer.
Close