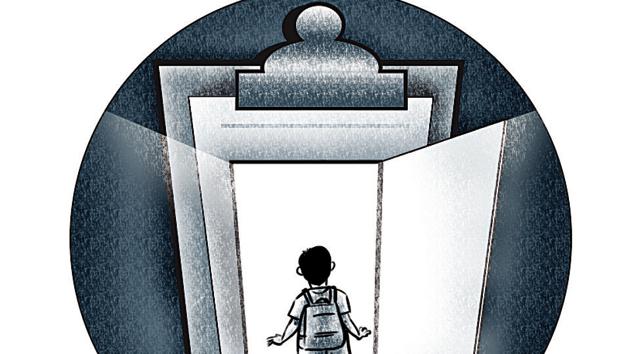 Maharashtra to form a writers' pool for disabled students
The online platform: http://www.research.net/r/readerwriterbank will be active from January 16
PUBLISHED ON JAN 12, 2017 12:51 AM IST
The Maharashtra state school education department is setting up an online repository of writers to aid differently abled students in appearing for Class 1 to 12 exams, said a government resolution issued on Wednesday.
The online platform: http://www.research.net/r/readerwriterbank will be active from January 16 and will put schools in touch with people interested in acting as an amanuensis for disabled students.
Each school will furnish the details of writers' available with them and this will be added to the pool. Similarly, candidates interested in helping students can register themselves on the link. These writers can be used to help students anywhere in the state, said Suvarna Kharat, deputy secretary of the department, who issued the GR. "The writers bank is a permanent solution for students, it will take care of demand and supply," said Kharat.
School principals will have the power to assign writers to the students, states the GR, laying down guidelines to be followed. But the students will have to right to choose from the available list.
Writers must be a year younger to the students but adult writers can be assigned to students as a last resort. They must not be teachers from their own school or other schools, relatives, private tutors or coaching class teachers. But in special cases, principals can assign close relatives if the situation demands it.
Experts welcomed the initiative saying that it will lighten the stress on students and schools to find writers. "Schools usually have a hard time finding students who are sensitive and willing to act as writers for students with special needs," said Harish Shetty, senior psychiatrist, Dr LH Hiranandani Foundation Hospital, Powai.
How did the idea of writers' bank come up
On January 21, 2016, a group of doctors from Mumbai met with education officials and they agreed to set up writers' banks in schools
On January 11, 2017, the education department issued a GR to lay down the guidelines on how to build this bank of writers and readers to aid disabled students. It will be made available online.
Objectives of setting up the bank
- Make writers and interpreters available to needy students
- Boost students' self-confidence
- Remove obstacles faced by students
How it will be done
- Teachers must encourage students to act as writers
- Schools that have writers and interested adults must register online from January 16
- Information and the link will be displayed on the education department's website
- Those signing up as writers, will be able to find needy students from the selected areas
- Schools in search of writers will be able to do the same and contact the writer
- Principals will have the right to assign writers
- Writers should be a year younger to the student. Adult writers can be assigned as a last resort
- Adult writers must not be teachers from their own school or other schools, relatives, private tutors or coaching class teachers
- Principals will have the right to assign close relatives as writers in special cases
Also read
Students with 40% or more disability to get writers: NIOS
SSC exam: 25% rise in learning disability students raises doubts
Close