More devotees turn up at SGNP in Mumbai, but litter less on Mahashivratri
More than 50,000 devotees congregated in the national park.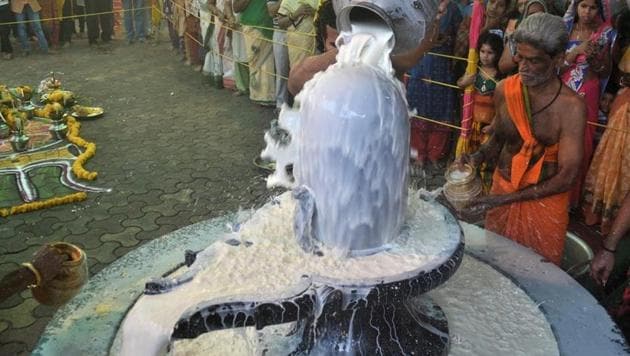 Published on Feb 25, 2017 01:04 AM IST
Hindustan Times |
, Mumbai
Akash Sakaria
Devotees flocked to Shiva temples on Mahashivratri and the thousands of people who visited the temples Sanjay Gandhi National Park (SGNP) left less litter, said forest officials.
More than 50,000 devotees congregated in the national park. "Littering has reduced compared to last year even though footfall increased this year. Pilgrims were cooperative and everything went smoothly," said Sanjay Waghmode, range forest officer, Yeoor end of SGNP.
Another centuries-old cave in Borivli, Mandpeshwar Caves, saw a cleaner festival as devotees brought milk and water as offerings rather than flowers. "We just got Bilvapatra (a trifoliate leaf offered to Shiva) and milk as offering. We know that we have to take care of the surroundings leaving aside our sentiments," said Khelan Shrivastav, a devotee at the temple.
Devotees in other parts of the city visited the temples with discipline and except for some pushing and elbowing, the day wore off with ease for the city. Not much had to be done by either police or volunteers, said city temple priests. One of the important Shiva temples in the city, Babulnath near Girgaum Chowpatty, saw over 250 volunteers from nearby areas helping devotees the entire day.
Shreyas Goradia, a volunteer at Babulnath Temple, said, "Queues were managed rather patiently and disputes were settled without much ruckus. People seemed to have gained patience over the years as they were waiting in long queues for their turn."
Walkeshwar, which has around seven Shiva temples around the Banganga tank, too saw large number of pilgrims. Residents decorated the temple and carried out a procession for Lord Shiva.
Why do we celebrate Maha Shivaratri: Shiva's wedding, emergence of Shivalinga and other mythical stories
Close Story