Mumbai woman biker tries to avoid pothole, gets crushed by truck
Hindustan Times |
, Palghar
Ram Parmar
Jul 24, 2017 04:33 PM IST
Jagruti Viraj Hogale, 34, and two other women were heading from Bandra to Jawhar, a popular tourist spot know for its waterfalls, on a weekend getaway, said Mumbai police
A 34-year-old Mumbai woman leading a group of bikers was run over by a truck on Sunday as she tried to avoid a pothole on the Jawhar-Dahanu highway.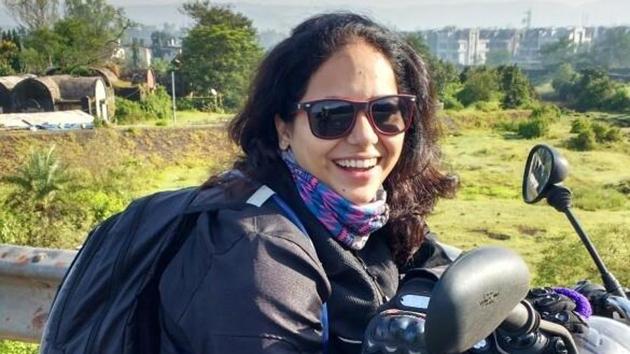 Jagruti Viraj Hogale, who was part of a women's-only biker club and hailed from Bandra, was on way to Jawhar, popular for its waterfalls, for a weekend getaway, police said.
At around 9am, she tried to overtake a truck near Vaiti village, 100km from Mumbai. It was raining heavily and she did not see a pothole, which she tried to avoid at the last minute.
She swerved her motorcycle to the left but was crushed by the truck, Kasa assistant police inspector Jayprakash Gute said.
By the time Hogale's friends, who were behind here, reached her, she was dead, he said."We registered a case under section 304 (a) (negligent driving) against Hogale. She should have shown better judgement while riding her bike. Had she swerved to the right, she probably could have been saved as she was wearing a helmet," he said.
Hogale is survived by her husband Viraj and nine-year-old son Harshit. She was a member of the Bikerni Motorcycle Club that was started in 2011. One of the group's most active members, she made several trips to Leh and Ladakh.
Upkeep of roads, or lack of it, in Mumbai and other parts of Maharashtra becomes a talking point every rainy season as potholed roads often turn into death traps.
The Brihanmumbai Muncipal Corporation, better known by the abbreviation BMC, has come under fire for failing to perform its job.
Recently, a former TV anchor, Kanchan Nath, was killed when a tree fell on her. Her husband plans to sue the BMC for negligence.