Mumbai civic body to send show-cause notices for incomplete desilting work
Four or five contractors who have not been able to finish 40% of the work will receive the notice, based on a status report dated May 7.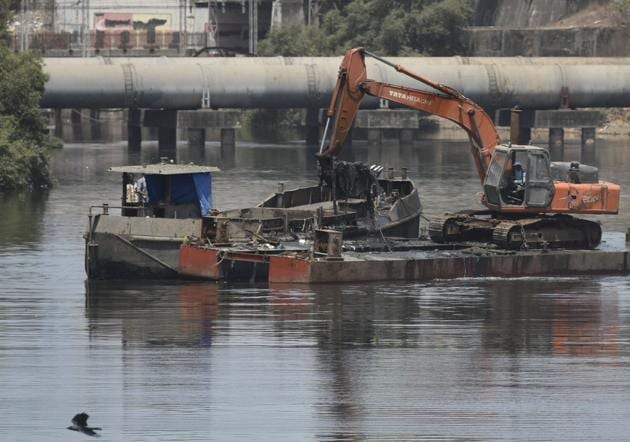 Updated on May 12, 2019 11:51 PM IST
Hindustan Times | By Eeshanpriya M S, Sagar Pillai
, Mumbai
With the deadline for completing desilting of nullahs fast approaching and the uproar in the standing committee over misleading claims, the civic body has decided to send show-cause notices to four or five contractors who have not been able to finish 40% of the work so far.
The Brihanmumbai Municipal Corporation's (BMC) decision was made acting on a May 7 status report of desilting works on all nullahs in the city.
Vijay Singhal, the additional municipal commissioner, who heads the stormwater drains (SWD) department, said, "This is a way to pull up these contractors up and make sure they speed up the work. It's like a warning to the contractors. However, I am confident that they will be able to complete the decided amount of desilting work before the monsoon."
The BMC wraps up all pre-monsoon works in the city by May 31 every year. Before the monsoon, it aims to complete 70% of the desilting work, and undertakes the remaining 30% later. "Overall, on an average, 60% of the desilting work has been completed, which is what we had decided for this time of the month. This is good. Some contractors are not up to the mark, but this is according to a five-day old report." Singhal also said this year's performance so far matches that of the same time, every year.
City will get its sixth water pumping station at Khar
After missing several deadlines, the construction of a water pumping station at Gazdhar Bandh in Khar has been completed and will be handed over to the Brihanmumbai Municipal Corporation (BMC) by May 17, the civic body said.
This will be the sixth water pumping station in the city. "We have completed all the testing at the Gazdhar Bandh pumping station. When monsoon starts, we will have six fully-functional stations to help avoid water-logging," said Vijay Singhal, additional municipal commissioner (AMC) from BMC's storm water department.
The pumping station – which will pump out around 36,000 litres of water per second and flush out water from flood-prone areas such as Khar Danda, Vile Parle, Khira Nagar, Santacruz (West) and parts of Bandra – has been completed at a cost of ₹120 crores.
Work on it began in 2014, but the contractor missed several deadlines. Last year, the civic body blacklisted the contractor and appointed a new one. "The work was mainly delayed because of the old contractor. Now, there is some technical work pending which will be completed before monsoon sets in," said a senior civic official.
Following a deluge in 2005, the BMC had identified seven locations where water pumping stations were to be set up. Currently, five pumping stations – Love Grove, Britannia, Cleveland, Irla and Haji Ali – are functional.
Close Story