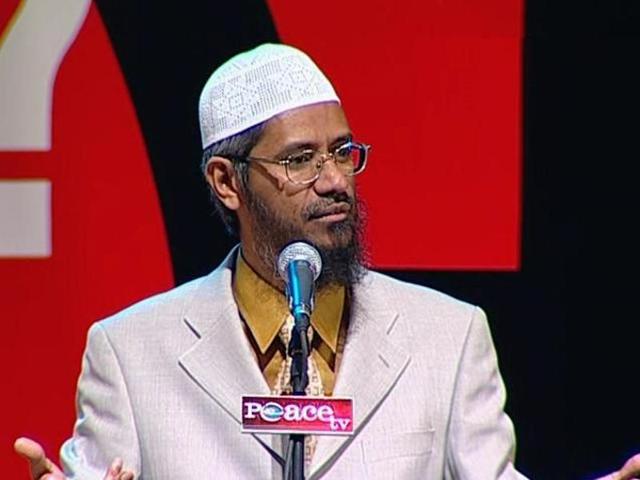 Mumbai police submits report on Zakir Naik, IRF to Fadnavis
The special branch of the Mumbai police is going through his sermons and speeches to find out if he has said anything provocative or used inflammatory words that could potentially create a divide between communities
UPDATED ON AUG 09, 2016 01:27 PM IST
The Mumbai police submitted their report on controversial speaker Zakir Naik, who is under the scanner of Indian intelligence agencies yet again, after an accused allegedly involved in fidayeen attacks and terrorist activities in different countries, was said to be watching his videos and was inspired by his speeches.
The special branch of the Mumbai police was going through his sermons and speeches to find out if he has said anything provocative or used inflammatory words that could potentially create a divide between communities.
Joint commissioner of police, law and order, Deven Bharti confirmed the development to the press.
"We have submitted a report on Zakir Naik to the government," said Bharti.
Naik was in the line of fire after he was seen in a video justifying suicide bombing under certain circumstances.
On Monday, the Nagpada police registered a case against an Islamic Research Foundation (IRF) employee and three others under various sections of the Unlawful Activities Prevention Act (UAPA) and Section 120B (criminal conspiracy) of the Indian Penal Code.
The preacher, who has been out of the country for months, has been the subject of a police probe over allegations that two of the six terrorists who attacked Dhaka on July 1 had drawn inspiration from his sermons. At a press conference that he addressed via Skype from Saudi Arabia in July, the preacher denied any wrongdoing, but said he won't return to India this year.
According to the police, Monday's case was based on a complaint filed by Abdul Majid Abdul Kader, 60, a resident of Mumbai Central. In his complaint, Kader named Navi Mumbai resident Arshid Qureshi, a guest representative officer with IRF; Kalyan resident Rizwan Khan, who is also believed to have IRF links; and two others, identified only as Haneef and Abdul, who are allegedly radicalising people.
Qureshi and Khan were arrested by the Kerala police and the Maharashtra anti-terrorism squad (ATS) on July 21 and 22 respectively, for allegedly radicalising a couple from Kerala and recruiting them for the Islamic State terror group, also known as ISIS.
According to an ATS source, while Qureshi is a bona fide employee of IRF, Khan's role was to prepare documents and conduct weddings for recent converts. A senior ATS officer said Khan has conducted more than 100 such weddings.
The special branch of the Mumbai police has been investigating IRF's activities and scanning Naik' whereabouts.
Close