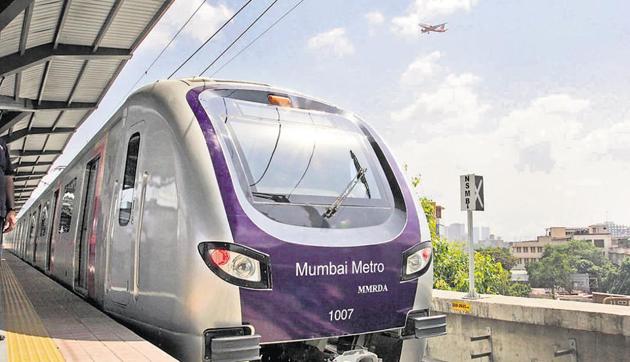 Mumbai's Metro 3 corridor: authority speeds up tunneling work
The tunnel boring machines (TBMs) at work now are digging 100 feet per day, an increase from 10 feet per day, said officials.
UPDATED ON APR 06, 2018 11:04 AM IST
With the construction of the Metro 3 (Colaba-Bandra-Seepz) corridor running behind schedule by six months, the Mumbai Metro Rail Corporation (MMRC) is speeding up the civil works. According to officials, the tunnel boring machines (TBMs) at work now are digging 100 feet per day. This is an increase from the initial 10 feet per day, when the boring had started in November last year.
MMRC, which is the implementing agency for the corridor, aims to complete the tunnelling works for the 33.5-km corridor by March 2020.
SK Gupta, director (projects) said, "With four of the eight machines in main drive, we are digging 100 feet per day. This will increase further as we lower all machines in the shafts by June."
Main drive is when all the components of the highly-mechanised TBM are assembled together to carry out the works.
Initially, only parts of machines are lowered in the shaft. A total of 17 TBMs will be at work in Mumbai by June.
The TBMs in main drive now include the Vaitarna-1, which is set to bore a 4.5-km tunnel from Azad Maidan to Grant road; Krishna-1 and 2, which will bore two parallel tunnels of 2.5km each from Naya Nagar to Dadar metro station; and Wainganga-1 at Pali ground, which is at work between Marol naka and the Chhatrapati Shivaji International Airport.
Till April 3, MMRC has achieved 1,267 meters of tunnelling at various station sites.
Gupta also said that the authority has increased the resources at work to speed up the construction. "We have increased the equipment and the number of engineers on the ground," he said.
Earlier, HT had reported that the work on the corridor is running behind schedule by six months, pushing the cost up by more than Rs800 crore. The delay was caused by legal issues with regard to the required permits for the project.
The Metro rail project, estimated to cost Rs23,136 crore, will provide connectivity across Mumbai and will supplement the overburdened suburban railway system. Phase-1 of the project, from Aarey to Bandra-Kurla Complex (BKC), will be operational by June 2021 and BKC to Cuffe Parade will be operational by December 2021.
Close