Mumbai students turn terrace into farm, harvest veggies, fruits and herbs
Hindustan Times |
, Mumbai
Akash Sakaria
Feb 06, 2017 12:48 PM IST
The garden has four types of herbs, eight varieties of fruits and around 10 kinds of vegetables. Students are given lectures thrice a week on how to maintain it
As you sow, so shall you reap — applies to students of Chembur's Our Lady of Perpetual Succour (OLPS) High School, as they look at the terrace garden, created by them from scratch, with pride and satisfaction.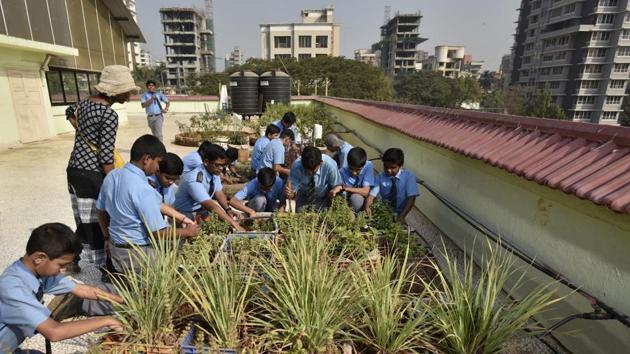 The garden has four types of herbs, eight varieties of fruits and around 10 kinds of vegetables. Students are given lectures thrice a week on how to maintain the garden by urban farming groups like Start Upcycling Now (SUN) and iKheti, which helped the school to set up the garden.
The project started in July 2016 after Father Gregory, the school's manager, roped in 240 students of Class 8 and explained the idea. Fascinated by the idea of having their own garden, the students immediately swung into action. Each class is divided into four sections and each division was assigned four gardens each.
"In a concrete jungle like Mumbai, a terrace garden awakens a sense of environmental consciousness and becomes a forum for knowledge. It also provides a variety of organic and fresh vegetables right at your doorstep," said Father Gregory.
He added that a special period has been dedicated for the students to do the gardening work, which includes watering the plants, planting new vegetables, adding soil and compost or removing saplings, everything is done in the 'Work Experience' period once a week.
To execute the project, students created soil beds using clay bricks. A plastic sheet was spread on the brick base to prevent water from seeping through. Later, seven inch thick soil layer is spread on the plastic and is mixed with mulch comprising shredded cardboard and dry leaves. This helps soil to retain moisture even on the hot days.
"We should not just teach students phrases, but also make them apply those in real life. This is their real education. Now, they are so involved in it that they even utilise their recess time nurturing the plants," said Gracy Solomon, principal, OLPS.
Studentspeak
Commenting on the initiative, Razeen Sayyed, 13, said, "We (each division) get 30 minutes with our respective gardens during which we must ensure that everything is fine with the crop. If everything is okay, and we are left with some time, we make self-irrigation bottles."
The terrace garden produces brinjals, tomatoes, ladies' fingers (okra), lemon grass, lemons and carom seeds (ajwain), which is appreciated not only by their treachers but also the monkeys who visit the garden in search of fresh vegetables.
"Monkeys eat our entire tomato crop. So to keep them at bay, we installed a scare crow," said Aaradhya Patil, 13.
On each patch of garden, there are boards with information on the plants and their uses. For example, pentas plant is used as a popular medicine in malaria and lime to relieve asthma.
"Kids should understand how the plants are grown from scratch and that even a day of not watering can take away all their hard work," said Priyanka Shah, founder, iKheti, adding "In this way, they also learn to respect food and become sensitive towards the environment."
Organic fertilisers
The compost that they use in the garden comes from the waste created in the school campus. The school has eight drums in a set of four for each division where they dump organic waste, which is later used as fertiliser.
"Students do all the legwork they can for the environment. Aerobic composting is something that you just have to dump it and almost everything else is taken care of the microorganisms. The students of the school make sure that no waste goes out to the dump yard from the school," said Natasha D'Costa, SUN founder.
After the crop comes to fruition, the saplings are handed over to the students. Sanket Gauri, a student of Class VIII, said, "We showed it to our parents and friends, and now even they want to be a part of it. My neighbours liked it so much that they want to start gardening on our terrace as well."
The students are not just young environmentalists, but they are exceptional in studies as well. They recently won a Science Club Competition last year.
"My favourite subject is Maths, but this [terrace gardening] is Science, Chemistry, Geography and all other subjects put to practice," said Essakkimuthu Konar, 14, as he held his self-irrigation bottle with his name labelled on it.
Also read: Teen powers change, helps buildings, schools recycle 350 kg of batteries
"Exciting news! Hindustan Times is now on WhatsApp Channels
Subscribe today by clicking the link and stay updated with the latest news!"
Click here!