Mumbaiwale: Mumbai's LGBTQ history through 13 landmark locations
Updated on Jul 23, 2018 03:08 PM IST
As the Supreme Court's verdict on Sec 377 is awaited, a look at some milestones in Mumbai's LGBT journey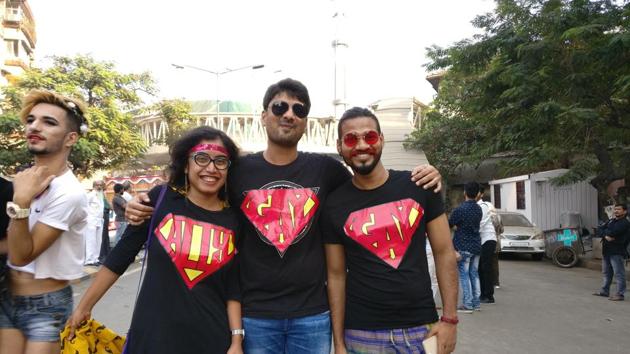 GOKUL, COLABA
"Before everything, there was Gokul," says Ashok Row Kavi, 71, and one of India's earliest gay activists. Gay parties were restricted to the homes of rich men in the 1970s, "meeting men at Gokul began happening in the mid '80s," he says. "Even if you weren't out, this was the comfort zone."
MAHESHWARI UDYAN, MATUNGA
Sunday evening meet-ups have been held here since the late 1990s. For many young queers, it's been the first place to get comfortable in one's skin. Activists have distributed free condoms here. There have been lectures on safe sex. Row Kavi calls it a "total catwalk".
VOODOO, COLABA
By the 1990s the action spread to Voodoo, a pub at the end of the Gateway promenade, and possibly India's first gay-friendly hangout. It became a place where men could meet men without the waitstaff frowning in disapproval. "Everyone looking for fresh air after that would head to what we'd call The Walls, the edge of the promenade," Row Kavi says. "It was, for years, the most popular cruising spot."
VEENA BEENA SHOPPING CENTRE, BANDRA
The retail arcade near Bandra Station has long shut down. But for years, it hosted the PO box for Khush Khat, the men-seeking-men classifieds in the pioneering LGBT magazine, Bombay Dost. Elsewhere in Bandra, trans people have congregated along Linking Road at night (Row Kavi calls it Mumbai's "trans capital") and between Otter's Club and Khar Danda (where "no one troubles them, not even cops").
KARMA LOUNGE, OPERA HOUSE
The now-defunct restaurant (it's been replaced by Canto) was popular for gay parties during the post-liberalisation boom of the '90s. Eventually Hotels in Dadar, Andheri, Juhu, Chembur and Ghatkopar started hosting parties organised by gay clubs, with entry fees (dinner, drinks and dancing) for as little as ₹100. Raids were inevitable. Most parties were aimed at men, says Row Kavi. "Women felt safer in smaller groups and restaurants, or bars with bouncers for security."
INDIA CULTURE LAB, VIKHROLI
Over the 2010s the rainbow flag has been flying high at the Godrej Lab, which has hosted LGBT-related talks, performances, films, fashion events, art shows, plays, dance performances and networking events. January, Pride month, sees the loudest buzz. But events around the year tackle at gay issues outside of activism and, in the Lab's own words "configures new ways of expressing and celebrating queerness".
LIBERTY CINEMA, MARINE LINES
The venue for Kashish, India's first LGBT festival held with approval by the Information & Broadcasting Ministry. Held since 2010, the annual festival features queer- themed films from India and around the world. Since 2011, it also presents the Riyad Wadia Award for Best Emerging Indian Filmmaker, supporting short films by new filmmakers.
NCPA, NARIMAN POINT
This is where, in December 1996, India screened its first gay-themed film. Riyad Vinci Wadia's Bomgay was based on poems by R Raj Rao. The short film roped in friends like Rahul Bose as the cast, and shot at the city's gay clubs, men's public toilets and Apsara Theatre at Lamington Road. Wadia died of Aids-related complications in 2003, before completing his first feature film, based on Rao's novel, Boyfriend.
CANDIES, BANDRA
India's first festival for queer literature ran here in October 2010. Shobhna Kumar, who ran Queer Ink, an online LGBT bookstore, found enough interest to display 400 titles on the subject. It included a creative writing workshop and an open-mic session, "It was one of the first events to look at queer issues beyond sexual relationships," she says.
GADKARI RANGAYATAN, THANE
This is where Mitrachi Ghosta, Vijay Tendulkar's play about a college student who realises she is lesbian, debuted in 1981. The play, set in Pune of the 1940s, was the first to feature a same-sex relationship, with Rohini Hattangady in the lead. It ran to empty halls, but is now a classic.
SURYAVANSHI HALL, DADAR
If Mitrachi Ghosta was ahead of its time, Ek Madhav Baug is squarely in the middle of it. Chetan Datar's play premiered in 2002, and has become the play to take your parents to, if you're planning to come out to them. The story is of a mother who discovers, that her dead son was gay and may have driven another young man to suicide. The 100th show was staged in January at the Dadar venue.
AUGUST KRANTI MAIDAN, GRANT ROAD
Mumbai's Pride march kicked off in 2008. But 10 years in, the city edition, which sets off from outside the maidan, sees the largest crowds. More than 10,000 attended this year, an overwhelming number of them straight allies, cultural and corporate groups. "We were trying to manage the crowd last year and one cop told me to leave the work to him and just celebrate," recalls Row Kavi
RAILWAY STATIONS
Perhaps nothing mobilised the LGBT community like the train network. Platforms (Churchgate, Charni Road, Bandra, Sion, Andheri) have served as areas to meet after dark. "Sion would have high camp queens going up and down," says Row Kavi. "The last train from Churchgate would have so many people heading home after cruising, we'd call it the Queen's Express."