NMMC fails to nurture green ideas
To increase awareness about environment among residents and increase green cover in the city, NMMC had chalked out two unique schemes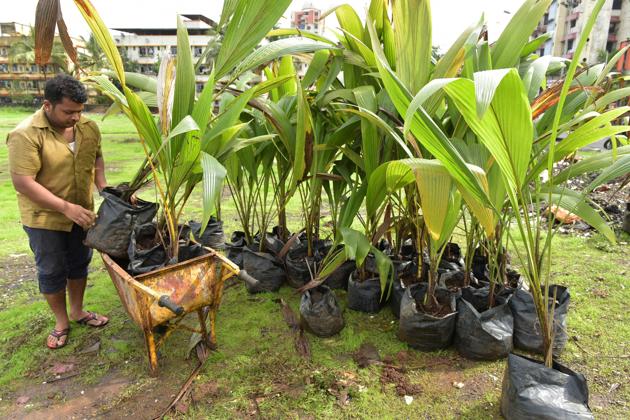 Published on Aug 09, 2018 11:42 PM IST
A green initiative planned by Navi Mumbai Municipal Corporation (NMMC) during the monsoon may turn out to be a total waste of time and energy owing to improper execution, said activists.
To increase awareness about environment among residents and increase green cover in the city, NMMC had chalked out two unique schemes. Under the schemes, it was planning to seek participation from more than 10,000 families.
It's been two months since the monsoon arrived in the city, but land reserved in Nerul for the schemes is still not ready.
According to NMMC officials, in the first scheme — Ananda Vruksha — a family will be able to plant a sapling at a given location whenever a happy moment comes in their lives. It could be a birth, wedding or marriage anniversary, among others.
The civic body will provide a sapling and a metal board on which the family can write the reason for planting the sapling. Family members can visit the saplings annually to refresh their memories.
In the second scheme, a family can plant a sapling in memory of a member who is no more. And so the scheme has been called Smriti Vruksha.
The NMMC will charge families a nominal amount for planting sapling under these schemes. The amount is yet to be decided.
Nitin Kale, deputy municipal commissioner, NMMC (garden and tree authority), said, "Such unique schemes to increase green cover, with cooperation from the residents, were planned for the first time in the city. But we have not been able to execute them as the land is still not ready."
He added the plan was to plant saplings on an open plot near Jewel of Navi Mumbai Park along Palm Beach Road in Nerul. But the plot will have to be levelled before the drive begins and tenders for levelling work have been floated.
"Levelling work will be done within weeks. We are confident of completing the drive before the monsoon ends," Kale said.
However, he failed to give satisfactory answers when asked why the levelling work was not done before the monsoon.
Activists believe that NMMC and families will waste time and money by planting the saplings.
"Monsoon will be over by September and NMMC is yet to start work on the plot. Even if they plant saplings before monsoon ends, none of them will survive," said Rajesh Puri, 38, an activist from Nerul.
Vilash Mane, 45, another activist from Belapur, said, "If they had planned to plant saplings, they should have finished it by now. That land belongs to the civic body. Then what stopped it from starting the levelling work? Some well-planned strategies cannot bring positive results due to such ineffective ways of execution."
Close Story
Personalise your news feed. Follow trending topics