No cure for Mumbai's pothole plague?
Every year, in the monsoon, outrage erupts over the poor condition of roads in Mumbai Metropolitan Region, but authorities are yet to find a concrete solution.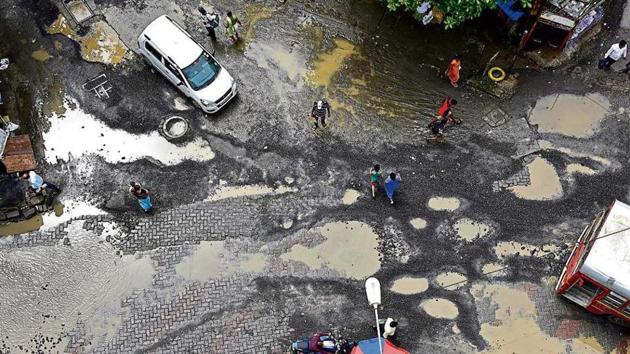 Updated on Jul 14, 2018 11:33 AM IST
With the fifth pothole-related death happening in Kalyan on Friday, the spotlight is back on the eternally poor state of roads in Mumbai and its neighbouring regions.
Potholes that emerged on roads after just a few initial spells of rain are turning fatal for the city's motorists. Every year, outrage erupts about Mumbai Metropolitan Region's (MMR's) bad roads but authorities are yet to find a concrete solution to it.
The reasons? Faulty tendering system, contractors forming cartels and doing substandard work, politicians and elected representatives forming a nexus with these contractors, corruption in awarding tenders and doing quality checks, lack of coordination between various bodies responsible for the roads, and also a lack of punitive action against guilty contractors.
According to social activist Anil Joseph, the raw materials that go into making asphalt roads do not follow specifications. "The very foundation of these roads is weak as it is filled with debris and rubbish instead of a mixture of tar, coal ash, granular sub-base (GSB) mix and smaller stones," said Joseph.
Joseph said last year, the Perry Road Area Local Management (ALM) in Bandra made the contractors lay the road according to specifications. "Today Perry Road is pothole-free while the neighbouring St Andrews and Mehboob Studio Road are full of potholes," he pointed out.
Many blame the problem to a fault within the system,saying the whole tender process requires an overhaul. In fact, chief minister Devendra Fadnavis said last year that the tender conditions for selecting contractors were tweaked to suit favoured ones, leaving even reputed brands (such as L&T) out of the race. In order to show some competition, contractors form a cartel or introduce proxy companies to bid for the project and gain the tender.
A reputed contractor who undertakes roadworks, on the condition of anonymity, defended himself by saying, "We first have to bid below the prescribed rate and in this, we have to give 10%-20% of the total contract price as a bribe. If we follow specified norms, it turns out to be a loss". The contractor claimed bribes have to be paid from top to bottom — civic officials, the standing committee, the tender committee and even the accounts department.
Former municipal commissioner DM Sukhtankar said what the city needs is "proper planning where the roads are converted to RCC (reinforced concrete cement)". However, with the level of corruption and lack of credible monitoring of road construction, many are doubtful even that would work.
Close Story