Pollution control board shuts down cement plant in Aarey
Oct 08, 2016 12:00 AM IST
According to MPCB guidelines, RMC plants must create a 100m buffer zone from residential areas and arterial roads
A ready-mix-concrete (RMC) plant near Aarey Milk Colony was shut down by the pollution control board earlier this week after complaints that it was polluting the area with cement dust.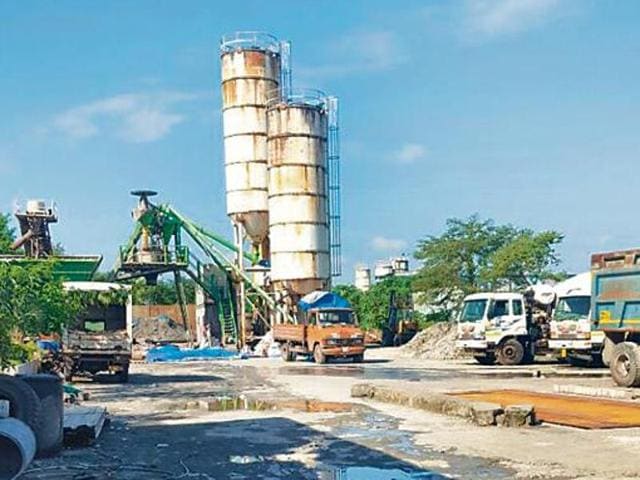 The plant on Jogeshwari-Vikhroli Link Road, Andheri (East) was dismantled on Friday. An RMC plant is a factory or batching plant where cement mix is manufactured in large quantities, mostly used for construction purposes.
Hindustan Times had reported on May 29 that a group, Watchdog Foundation, had alleged that the plant was causing air pollution in a radius of 500 metres and was affecting plant and animal life in the area around Sanjay Gandhi National Park and Aarey.
"Following the newspaper report in May, our sub-regional officers carried out an investigation of the plant," said MR Lad, regional officer, Maharashtra Pollution Control Board (MPCB). "We found that the dust separation and control systems were not in place. After repeated notices, the plant failed to comply with our directives and we were forced to shut it down."
According to MPCB guidelines, RMC plants must create a 100m buffer zone from residential areas and arterial roads. But most facilities do not follow this rule. In February this year, state environment minister Ramdas Kadam raised the issue of pollution caused by cement dust from RMC plants in the state legislative assembly. He asked MPCB to investigate the problem and the board ordered the shutting down of 32 ready-mix concrete (RMC) plants found to be flouting pollution-control rules.
"Our sustained campaign has succeeded in highlighting pollution problems at RMC plants," said Godfrey Pimenta, trustee, Watchdog Foundation. "Large trees in the area were dying because of the (cement) dust deposited on the leaves. MPCB's action will help preserve the biodiversity around SGNP's eco-sensitive zone."
A recent study by Environmental Policy and Research India (EPRI) found levels of particulate matter (PM1, PM2.5 and PM10) at construction sites and RMC plants in Mumbai to be five to six times the permissible level. PM, which comprises tiny dust, chemicals and organic particles, can become embedded in the human respiratory system and cause ailments.
"Dust from construction is a major source of pollution in Mumbai. The concentration of PM2.5 and PM10 particular were found to be between 500 and 600 mg per cubic metre (ug/m3), as against the safe levels of 60ug/m3 and 100ug/m3, respectively. We observed water-sprinkling is done only once a day at these plants and construction sites," said Avick Sil, regional director, EPRI.
What is an RMC plant?
An RMC plant is a factory or batching plant where cement mix is made in large quantities. From here, the mix is delivered to construction sites in trucks with mixers that keep rotating to prevent it from getting dry. A RMC plant can produce 80 to 100 metric cubes of concrete a day.
A 2010-11 study by the National Environmental Engineering Research Institute (NEERI) on the sources of pollution in Mumbai found that construction activities alone were responsible for a whopping 8% of the city's pollution.
An RMC plant near your home? Watch out for these:
• Has a dust separator and collector system
• Has a mechanism to sprinkle water across the plant so dust particles settle
• Water is sprinkled after trucks leave the plant
• A compound wall is built around the machine
• Trees are planted around the machine
• A system to collect and dispose waste
• The plant is at least 100m from residential areas and arterial roads