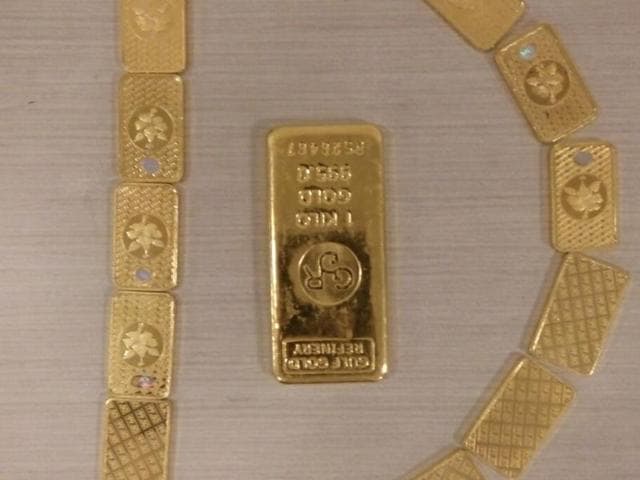 Demonetisation effect: Man caught trying to smuggle gold out of country
In a rare case of reverse smuggling of gold, the Air Intelligence Unit (AIU) of the Mumbai customs intercepted a Canada-bound man for carrying ill-gotten precious metal bars worth Rs65.76 lakh on Thursday night.
UPDATED ON NOV 18, 2016 06:00 PM IST
The Air Intelligence Unit (AIU) of the Mumbai customs on Thursday intercepted a man who was attempting to smuggle out of the country gold allegedly purchased using black money.
Pranav Shashikant Chauhan was intercepted at the international airport before he could board a flight to Canada via Dubai with one 1-kg gold bar and 15 gold bars of 100 grams each — weighing 2.5 kg in total and valued at Rs. 65.76 lakh.
"The accused had undeclared money, which he had procured from a land deal. He purchased gold from that money from Surat and we suspect that he was trying to sell the gold either at Dubai or at Toronto in Canada so that he could get cash in foreign currency," said an AIU officer.
The arrest was unique in that most such incidences are of gold being smuggled into India, but recent demonetisation of high-value currency have forced people find alternate avenues to park their black money.
"The after-effects of demonetisation are setting new trends in money laundering and smuggling activities. It is suspected that the passenger would have traded it for foreign currency and thereafter he would bring the said currency in India," the officer said.
AIU sources said this was a modus-operandi to turn black money into white, and that they were keeping a close eye on those flying out of the city.
"Ten grams of gold is sold in the grey market at almost double the (market) rate. It has touched Rs 60,000 for 10 grams as certain jewellers are accepting the old notes of Rs 500 and Rs 1,000 denominations," the officer added.
Sources said people hoarding black money in scrapped currency are converting it by purchasing gold at premium rates from unscrupulous sources.
Read | Rail tickets, jewellery: People find ways to hide black money from govt
Close