Raising a stink! BMC not providing adequate facilities to treat Mumbai's sewage, pollution board tells HC
The board said at least 25% of the city's sewage is entering the sea directly, without being treated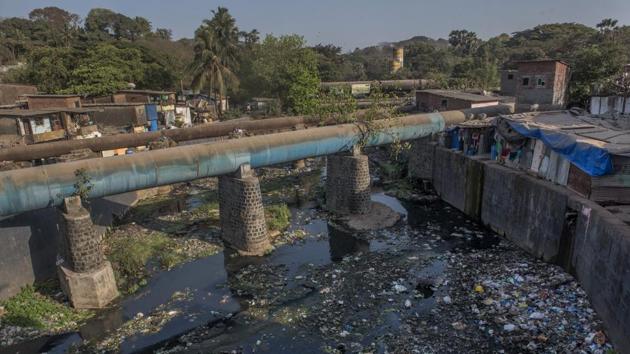 Published on Oct 14, 2017 12:14 AM IST
The Maharashtra Pollution Control Board (MPCB) submitted an affidavit in the Bombay high court on Friday slamming the Brihanmumbai Municipal Corporation (BMC) for having inadequate facilities to treat domestic sewage entering the various creeks and the sea in Mumbai.
The pollution control board said domestic waste generated in the city is 2,671 million litres a day (MLD), of which 2016 MLD is being treated at eight sewage treatment plants (STP), and 655 MLD is directly discharged into creeks and the sea at different locations daily — this means almost 25% of the city's sewage is entering the sea directly.
Despite issuing various directions and reminders to the civic body since 2012 to upgrade existing garbage collection systems, sewer lines and sewage treatment plants, the BMC has not provided infrastructure to collect untreated domestic waste or implemented any garbage collection system, the affidavit read. The civic body has also failed to provide sewage treatment plants on the banks of the Mithi river, it added. These are the main reasons for the huge pollution load, the MPCB alleged. It also said the BMC has not responded to several communications by the pollution control board.
The MPCB also submitted short-term and long-term measures to improve water quality.
The HC was hearing a petition filed by advocate Shehzad Naqvi against the state government, the BMC and the MPCB, regarding pollution in coastal waters hampering the eco-system, with allegations against the civic body for not laying out any proper treatment for domestic sewage. The Bombay HC listed the matter three weeks from Friday and directed the BMC to submit their response.
"Whatever we stated in our petition regarding the negligence and lack of cooperation by the BMC and that they have turned a blind eye to the eco-system of the city by allowing discharge of untreated sewage, the MPCB has confirmed all these points through its affidavit on Friday," said Naqvi.
A senior civic official said, "We have not seen the affidavit so far. We will study it and respond with all the measures taken by us to improve water quality in Mumbai by the next hearing."
HT had reported on July 16 that a five-month analysis of surface water quality across the city's coastline revealed that water around Juhu, Girgaum Chowpatty and Haji Ali is the most polluted in Mumbai, while the Thane creek, Versova and Gateway of India have relatively cleaner water. On May 20, HT reported Mithi is the most polluted water body in the city, with pollution levels almost 13 times above the safe limit, according to MPCB's water quality assessment. Both reports were included in the petition by Naqvi.
"Our last monitoring results show that the status of coastal water at Malabar Hill and Shivaji Park, Dadar locations has improved whereas water quality at Haji Ali, Worli Sea, Gateway of India and Charni Road Chowpatty (Girgaum) has deteriorated. Water quality at Mahim Bay, Juhu Beach and Nariman Point have not shown any significant change," read the affidavit undersigned by Madhukar Lad, regional officer, MPCB. "It is recommended that there should improvement and upgradation of sewer lines to control pollution."
The affidavit also identified that all four rivers in Mumbai – Oshiwara, Dahisar, Poisar and Mithi – have high pollution levels. "Major source of pollution of the four rivers is sewage from slum areas, tabelas (cow sheds), plastic waste and municipal solid waste," the affidavit read adding, "No proper garbage collection system has been implemented by the corporation, which is their responsibility."
Read more:
Sewage that Mumbai pumps into sea is filled with pharmaceutical drugs: IIT-B study
Close Story