Save Bhiwandi river: College students in Thane rope in authorities to chalk out plan
Mar 15, 2018 01:22 AM IST
Industries have been discharging chemical effluents into the river, which is covered with filth and weeds.
Bhiwandi, the state's largest powerloom hub, has almost 90% of the taluka's population working in the looms. However, all effluents from the looms are released into the water bodies, which are dying slowly.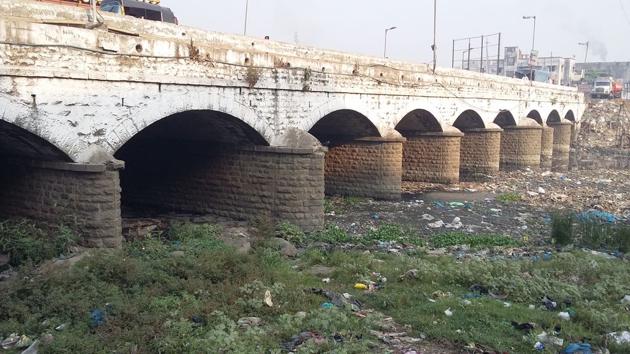 Kamwari river is one of polluted water bodies in the city.
The river existed since the 16th century and used to be a port during the British-era.
Once a big river used to transport cargo, it is now the size of a nullah.
The growing industrialisation and urbanisation on the banks of the river has led to more pollution.
Around 50 students from Shree Hallari Visa Oswal College of Commerce, Bhiwandi, have decided to revive Kamwari river.
The students approached the authorities for a solution. A meeting was conducted of all the officials from Thane district collector's Office, Bhiwandi Nizampur Municipal Corporation and the college principal. Rajendra Singh, a well-known water conservationist from Rajasthan was also present.
They discussed about the importance of conserving rivers and the measures to be taken to revive Kamwari river.
"For the last 20 years, the river is deteriorating. The industries in the vicinity have been discharging chemical effluents into the river. For around four months in a year, the river is completely dry. A wall was built to separate the polluted water but it has broken," said Snehal Donde, principal of Oswal College of Commerce.
She said that the students will start by removing filth and planting trees around the river.
Singh, also known as the waterman of India, said that water conservation was the need of the hour not only in the country but across the world. "Youngsters should take the initiative to conserve water. The process should be planned and executed wisely and so start with reviving the Kamwari river," said Singh.
MS Shaikh, geologist from Thane, said the initiative requires help from various stakeholders.
"It is not possible to go ahead and revive any water body without the government's support. They will have to ensure sewage water treatment and control plastic waste as it can deter ground water to accumulate," said Shaikh.
Around 70 years ago, Kamwari was a tributary of Ulhas river and connected till Thane creek.
"Gradually, its condition deteriorated and now it is dry from November. Upstream there is enough water for the villages but as it enters Bhiwandi, it weakens," said Akshay Patil, student.
Yogesh Pawar, a student, said that the negligence of the Thane zilla parishad and the municipal corporation towards conserving lakes and rivers has led to pollution of around 10 water bodies in Bhiwandi. "We will focus on Kamwari river as its revival will benefit many. We will then take up other lakes," he said.
WHAT THE STUDENTS WILL DO
• Clear filth from the river
• Plant saplings around the river bed
• Create awareness to conserve water
• Ensure all new buildings have water harvesting system