Scramble for water begins in drought-hit Maharashtra
Published on Oct 29, 2018 01:45 AM IST
With just 23% of the region's water stock left and nine months till next monsoon, a familiar crisis of water scarcity begins for its people and cattle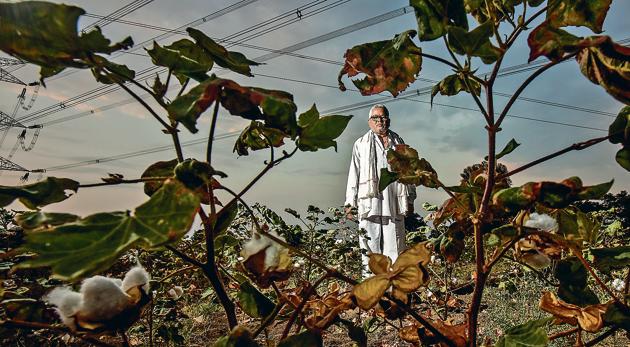 For 35-year-old Mangal Waghmare, a farm labourer from Kamkheda village in Beed district of Marathwada, the biggest challenge every day since October has been to get enough water for her family of five.
Officially, the monsoon in the state got over on September 30. However, in Beed, Waghmare said it's like it skipped a season bar a brief spell in July.
In Kamkheda, 266km from Aurangabad city, alarm bells started ringing when the retreating monsoon also failed this month and the village's water sources started drying up. Now, there is just one drinking-water well in the village, where supply threatens to run out any day now. "Forget looking for work or earning some income, our biggest struggle has been to get enough water daily. It means walking for 2-3km twice a day or purchasing water from private tankers. A 1,000-litre tank costs Rs300. That's not a viable option for us,'' said Waghmare. The village has sent a proposal to the district collectorate, asking for tankers, but that has so far not been granted.
For the next eight to 9 months before the next monsoon, Waghmare's big fear is that the daily struggle for water and zero income will come at the cost of her daughter Neha's education. "There's not going to be enough money to continue sending her to college. We might need an extra pair of hands.''
The failure of kharif sowing (monsoon) yield owing to deficient rain has meant not just losses for farmers, but also a cut in income for farm hands.
"In my 12-acre cotton farm, I have spent ₹13,000 an acre and in return I have made ₹7,000 an acre. You do the math. If I sufferlosses and have no money for next year's sowing, how can I give work to labourers?'' asked Ganesh Nevde, former sarpanch of the village. Kamkheda is one among all the 11 tehsils of Beed district that are hit by 'severe drought' this year.
"The rainfall this year is 50% less than its annual average of 666.36mm. The total water storage n the district across all its big, medium and minor projects is down to 3.646%. The groundwater table in the district has depleted by 2.21m compared to the average of the last five years. While we have planned water usage until June next year, the scarcity is serious,'' said Chandrakant Suryavanshi, resident deputy collector of Beed.
'Just the beginning'
In Aurangabad district, the village of Bolthan in Gangapur tehsil is lined with storage containers of all hues and sizes. Dependent on tanker services for drinking water, the big job for villagers , who have stayed back is to ensure that they don't miss it. But, just when the tanker could make its way to the village, is anyone's guess. "Last week, the tanker made a round at 11 in the night. We were waiting since early evening. The tanker of 1,800 to 2,000 litres gets emptied in minutes. Families comprising only the elderly and children (as most youth have migrated in search of jobs) suffer the most in this scramble,'' said Harishchandra Dusi, a cotton farmer from the village. "We can survive on subsidised rations provided through public distribution service, but the struggle for water is only going to get harder,'' he added.
While only 237 tankers have been pressed into service so far in Marathwada with Aurangabad district getting the larger share of 195, district collectorate officials saidthis figure could multiply by five times over next summer.
In Warudi village in Paithan tehsil of Aurangabad district, which is also reliant on tanker services, the problem of providing water for cattle has become grim. "We are just 15km away from Jayakwadi Dam, the biggest earthern dam in Asia, but we don't have drinking-water sources. The case of cattle is even worse and distress selling has brought down the prices of animals,'' said Rameshwar Gandhar, a farmer from the village.
Balasaheb Chavan from Wadali village in Aurangabad district for instance sold his pair of bullocks brought for ₹60,000 three years ago, for ₹35,000 this month. "When I first took the pair to a bazaar, I was offered ₹42,000. I came back home hoping for a better price in some time. This month, I was forced to sell the pair for ₹35,000,'' said Chavan.
All nine tehsils of Aurangabad district are facing drought after a rain deficit ranging from more than 20 to more than 50%. So far, cattle fodder camps have not been started by the administration anywhere in the region.
Natural or man-made crisis?
"We have planned our water supply until June 2019 considering the requirement, evaporation losses, among other factors. Across 15 irrigation projects in the district, we have reserved water only for drinking purposes. So far, water has not been reserved in Jayakwadi as it still has 31% of live storage. But, we may stop water for irrigation soon,'' said Uday Chaudhari, collector, Aurangabad district.
"Taken with the dead-water storage, the stock is technically enough to supply water to the city, to industries and in fact the entire district, but we will have serious distribution, water management challenges,'' he added.
Chaudhari is referring to water losses in the supply schemes, non-existent schemes, as well as faulty planning where upstream dams on the Godavari River mean that water for Marathwada and even for Jayakwadi often doesn't come through. The Jayakwadi surplus water is released to Majalgaon dam for instance to irrigate an area further down in Beed district. This means thatwhen the water stock in Jayakwadi drops, Majalgaon Dam gets nothing.
"The state may have planned in advance, but the reality is that with eight to 9 months till next monsoon, the water-supply scenario is precarious. It is more serious than what we witnessed in 2014, 2015 or the summer of 2016. In 2016, people died after falling into wells in their scramble for water. This time it may get worse,'' said Pradeep Purandare, water expert and retired professor of Water and Land Management Institute (WALMI). He added, "This situation is solely because of shoddy water-management policies, cropping patterns and lack of drought proofing.''
Topics
Personalise your news feed. Follow trending topics