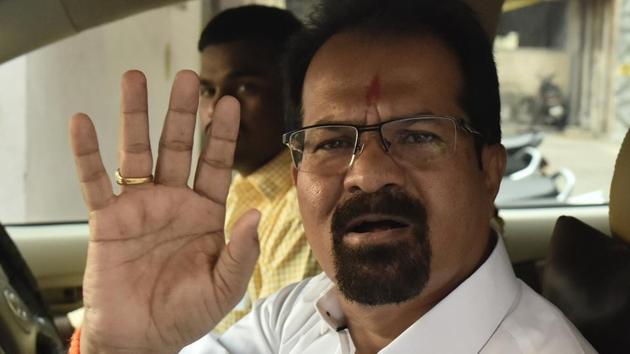 Sena leaders win key posts in Mumbai civic body committees
Senior leaders Yashwant Jadhav and Mangesh Satamkar were elected as the chairpersons of the standing and education committees
Hindustan Times | By Sagar Pillai
PUBLISHED ON APR 06, 2018 12:29 AM IST
After struggling for key posts in the committees of Brihanmunbai Municipal Corporation (BMC), senior Shiv Sena leaders Yashwant Jadhav and Mangesh Satamkar were elected as the chairpersons of the standing and education committees on Thursday. The chairpersons were elected unopposed as none of the opposition parties filed nominations for key posts of the BMC's statutory committees.
Mayor Vishwanath Mahadeshwar on Wednesday announced that ex-mayor Vishakha Raut will be taking over as the leader of the House of elected representatives next week. The post became vacant after Jadhav was elected as the chairperson of the all-important standing committee.
Jadhav, who is known for voicing out strong opinions and comes across as an aggressive leader in the BMC, has promised to look into issues like roads, drains, proper implementation of uninterrupted water supply and the urgent need to address issues of waste management. The standing committee, the most important civic committee as it sanctions development projects and controls the financial decisions of the civic body, is currently headed by Sena corporator Ramesh Korgaonkar.
HT had recently reported that senior leaders of Shiv Sena are being brought to the forefront by being given key posts in the BMC's four statutory committees. Sena corporators Ashish Chemburkar and Dilip Lande have filed their nominations for BEST and improvements committees. They will be elected unopposed on Friday.
BJP Opts Out Of Bypoll
After the death of Sena corporator Pralhad Thombare from ward no. 173 of Sion's Pratiksha Nagar, the BMC will hold a bypoll on April 6. The Shiv Sena, Congress and Bharatiya Republican Party have fielded their candidates in the ward. Whereas the BJP, which came second last year, has decided not to contest the bypoll.
Close